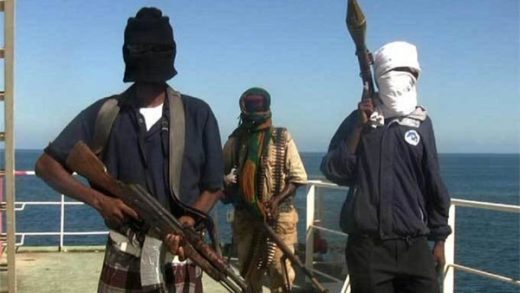 The Somali government and the European Union (EU) have held talks on strengthening the Horn of Africa nation's maritime security to help deter piracy along the coastline.
Somali Prime Minister Hassan Khaire and EU Ambassador to Somalia Veronique Lorenzo, who were hosted by the EU Naval Force aboard the flagship ESPS Galicia, discussed how the EU can best support the government to take full control of its maritime security, which is essential for long-term stability of the country.
"We have been a supporter of the security sector in Somalia and maritime safety is a central pillar often overlooked," Lorenzo said in a statement issued on Tuesday.
The discussions highlighted the cooperation existing between EU and the Somalia government in policing Somali waters.
"The protection of the Somali coast and over 3,300 kilometers of it, is central not only for the fisheries sector but also for the commercial shipping industry; and in general for the private sector, who wish to have some degree of stability, of security, to be able to invest in such a sector with wealth of prospects," Lorenzo added.
The EU naval force, a counter-piracy military operation off the coast of Somalia has been protecting Somalia bound ships, belonging to the UN World Food Programme and the African Union Mission in Somalia.
Discussions between Khaire and EU officials also focused on counter-piracy operations and recent piracy incidents on the Indian Ocean.
During the talks, Khaire, who was also led on a guided tour aboard the ESPS Galicia, which is used in anti-piracy operations, urged the EU Naval Force to intensify counter-piracy military operations, by deploying more ships in the waters; and increasing air patrols, in light of the recent piracy incidents.
READ: China receives 138 million tourists
"We have also raised the issue of joint collaboration in order to devise ways to end the illegal fishing in Somali waters by foreign vessels.
"So, we have agreed to continue discussions on how we can protect the Somali natural resources," he said.
Maj.-Gen. Robert Magowan, the EU Naval Force Operations Commander, Operation Atalanta which started in June 2016, said they have thwarted attempted pirate attacks.
Maghowan said the forces would continue to sustain the momentum of the operation, in order to deter and suppress piracy on the high seas.
"We will continue to deter piracy for as long as we are here. That is something I am very clear about.
"It is also important for us to continue to reassure our maritime industry, that we will continue to suppress and deter piracy and ensure they deliver best management practices as they move in this region," he said.

Load more