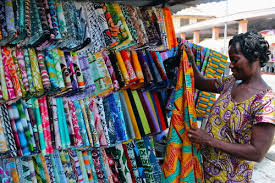 The National Union of Textile Garment and Tailoring Workers of Nigeria (NUTGTWN) on Tuesday commended the Federal Governments resolve to promote the sale of locally made textiles.
Mr Issa Aremu, the General Secretary of the union hailed the decision, while speaking with the News Agency of Nigeria (NAN) in Lagos on Tuesday.
NAN recalls that the Federal Government had recently directed all public workers to wear locally made fabrics (Ankara) to work twice a week.
"It is commendable and we are encouraged. The decision of government is in line with our demands to boost production and capacity in the textile companies.
"We (NUTGTWN) believe that if workers patronise more of the local fabrics, it will revive the industries.
"Factories will be able to pay wages and more workers will be employed,'' he said.
READ: Abia Govt Tasks Councils To Embrace Basic Healthcare
According to Aremu, workers in the private sector should also be directed to wear local textiles throughout the week.
He said that the decision would help to diversify the economy as well as improve tax for the country.
Aremu also called on the government to boost energy supply to sustain local production at affordable price.
He further called on government to sustain the fight against smuggling to ensure that only locally made textiles were sold in the country.
NAN reports that United Nanotech Products Ltd (UNTPL), Kaduna Textiles Ltd, and Arewa Textiles were among the companies shut down due to economic downturn.

Load more