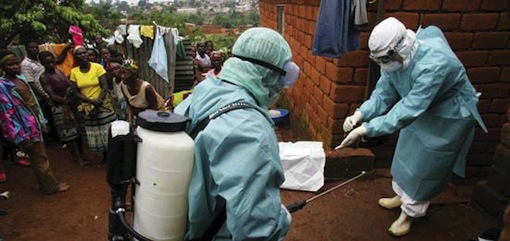 Health authorities in Zambia have intensified surveillance in areas bordering the Democratic Republic of Congo (DRC) following an Ebola outbreak in that country, a senior government official said on Monday.
The World Health Organisation (WHO) has declared an Ebola outbreak with 11 cases reported so far in northeast DRC.
Minister of Health Chitalu Chilufya said the government has put in place intervention measures to ensure that the disease does not enter Zambia.
He added that all airports are currently screening all people entering the country while protective equipment have been distributed.
READ: Live Updates May 15 2017 #LagosToday
Meanwhile, Ministry of Health Spokesperson Kennedy Malama said the ministry has installed thermal scanners at borers to detect whether the people coming into the country have normal temperatures or not.
"We have tightened all the 10 provinces, including those that do not border with the DRC, with Ebola preparedness and surveillance interventions to ensure alertness as a country," he is quoted as saying by the Zambia Daily Mail.
Load more