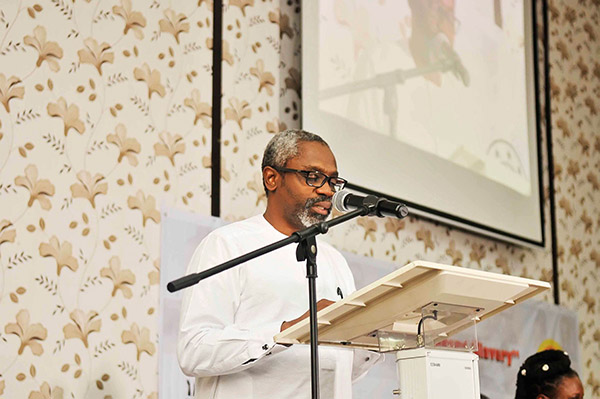 The Majority Leader in House of Representatives, Rep. Femi Gbajabiamila, on Friday distributed no fewer than 501 computer tablets to secondary school students in his Surulere constituency.
In his speech at the occasion, Gbajabiamila said the gesture was a redemption of his electoral promise to impact on the lives of the people of the area.
He said that the idea to purchase the tablets was conceived to improve the quality of education in schools through the use of ICT tools.
He said that ICT-based education was indispensable to the development of Nigeria in the 21st century, stressing that students needed to be properly equipped with the right tools to propel development.
"We are in the 21st century when the most important thing that drives development is technology.
"Nigeria cannot afford to be left out, that is why we are doing our little by distributing these tablets to our students today," he said.
The majority leader explained that the selection of the students was made without political affiliation, adding that the management of the benefiting schools recommended the beneficiaries based on merit.
He said the tablet contained 117 online books for Junior and Senior students and covered all the subjects in the curriculum.
The lawmaker added that the tool also contained tests and assessments that could help students in their learning.
According to Gbajabiamila, other features of the computer include processing applications for Word, Excel, PowerPoint and long lasting battery life of 6,000amh.
He said he had no doubt that the e-learning tool would help to improve the level of education in the state.
"I am fully confident that the Gbaja Tab will complement the "Educate Lagos "and "Eko Project" of the state government.
"I have facilitated this learning project and will need parents and teachers to monitor its usage by their wards.
"More importantly, parents need to know that Gbaja Tab is transferable to other children in the family as it contains textbook for all school classes, "he said.
Gbajabiamila said the 501 computers were as the first in the series; he promised to provide more to other students in subsequent phases.
A member of the House of Representatives, Mr Rotimi Agunsoye, commended Gbajabiamila for the tablets, saying they would assist the beneficiaries in their studies.
He said he was impressed by "this real empowerment" and promised to replicate the idea in his Kosofe Federal constituency.
A member of Lagos state House of Assembly, Mr Desmond Elliot, described the tablets as "a different form of empowerment,' and would impact on the life of the beneficiaries.
"I, therefore, urge you students, to put the tools into good use for the benefit of your education and future, "he said.
The Sole Administrator, Surulere Local Government, Mr Sherrif Balogun, said his constituents were proud of Gbajabiamila's impactful' representation in the lower legislative chamber.
A beneficiary, Akeem Sanni, thanked the lawmaker for the gesture and prayed God to continue to strengthen him to assist more students in the area.
Load more