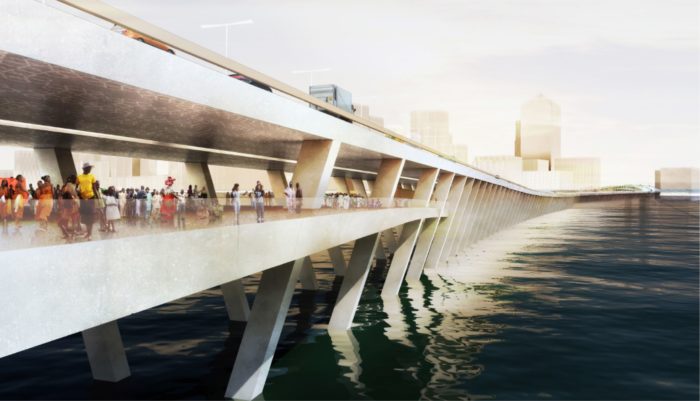 By Kazeem Ugbodaga
The Governor Akinwunmi Ambode-led Lagos State Government on Monday said it has terminated a Memorandum of Understanding (MoU) it entered with a consortium of firm to construct the 4th Mainland Bridge at the cost of N844 billion.
Ambode had on 25 May, 2016 signed an MOU to build the 4th Mainland Bridge expected to be 38km.
The project was to be financed by Africa Finance Corporation, Access Bank, and other private investors who have already signified intention to be part of the construction, while Visible Assets Limited would be the coordinating firm.
But Commissioner for Waterfront Infrastructure Development, Mr. Adebowale Akinsanya said during a ministerial briefing in Alausa, Ikeja area of Lagos, Southwest Nigeria, that the slow pace at which the concessionaire was working was the reason behind the termination of the contract.
According to him,  "due to slow pace of work, the contract was terminated. We are now looking at many investors, though interest is very high."
He said that investors had started scouting for the project from different parts of the world, though the state government had not decided on the proposals it had received.
"The state government has started the proposals. We have such investors from South Korea, Europe and the United States, among few others. What we are doing now is vetting the proposals. We do not want to waste any further time. So works are in top progress on the 4th Mainland Bridge.
"The investors would be named very soon, the state government will enter into concession agreement with appropriate investors that deliver the project," he said.
On the Airport road project, Permanent Secretary, Ministry of Works and Infrastructure, Engr. Temidayo Erinle said the state government was yet to obtain the federal government's approval on the Airport road project.
"We want to assure residents that whenever there is approval, our engineers will move to site. However, we are still collaborating with the federal government to get things resolved. The road is not in good condition; hence, we need to move fast. Also, Apapa Road, like Airport Road, is a federal road. We are collaborating with the federal government to get it done.
"The state government has designed the reconstruction of the road project and the funds to embark on the project, but the federal government is yet to grant approval. But we are still talking on it," he said.

Load more