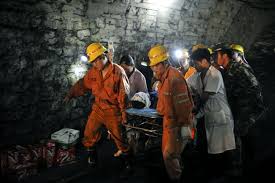 Alhaji Sani Shehu, President, Miners Association of Nigeria, has advised the Federal Government to put adequate measures on ground to identify genuine foreign mining investors before issuing them visas.
Shehu gave the advice in an interview with the News Agency if Nigeria (NAN) on Sunday in Abuja,
He said some foreign miners did not have the intention of mining but to promote illegality.
He said now that the Federal Government had ordered that foreign investors should be given visas within two days, the pronouncement  would make lots of them to disguise into the country as investors, especially as miners.
" The Acting President, Prof. Osinbajo's initiative  that visa should be issued to foreign investors within two days was a good development and it is a practical demonstration to attract foreign investors.
"But adequate measures must be put in place before issuing visas to foreigners to invest in Nigeria.
"There are some foreign  mining investors that are using illegal miners to get minerals without paying taxes, mining fees, royalties and they escape to their countries with raw minerals," he said.
READ: Osinbajo To Implement New Executive Orders
According to him, that is the reason illegal miners are on the increase across the country; the foreigners motivate and buy the minerals from them at cheaper rates.
Nigeria will now process all tourist and business visas within two days, the vice president's office said on Friday.
Ss Africa's largest economy, mired in recession, Nigeria tries to improve the ease of doing business in the country.
Applicants would be notified whether their visas would be issued or rejected within 48 hours.

Load more