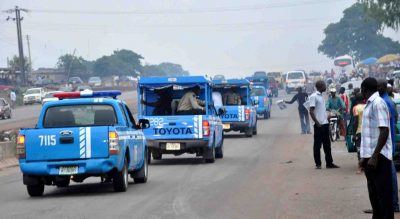 The Federal Road Safety Corps (FRSC) has urged the leadership of Abuja taxi drivers associations to demonstrate their commitment to orderliness on roads.
The FCT Sector Commander of the Corps, Mr Sunday Oghenekaro, made the call in an interview with the News Agency of Nigeria (NAN) in Abuja on Friday.
He said they could do this by putting measures in place to ensure that their members comply with traffic rules and regulations.
Oghenekaro said the call became necessary in view of observed lack of change in the behaviour of many of the drivers despite constant enlightenment engagement with them by the FRSC.
"We have been interfacing with the drivers' associations and their executives always assure us at every meeting that they will make their drivers key into our initiative of ensuring orderliness on the road.
"But what we see in practice is that a good number of them are not showing understanding of the messages passed to them by our officials during public enlightenments.
" We expect their executive members to do more by either imposing their own rules or having their own means of ensuring that their drivers comply with traffic rules and regulations.
"This will show that they have a commitment in partnering with the FRSC in a most effective and worthy manner,'' he said.
READ: Democracy day: Police to deploy more personnel in FCT
The sector commander listed the unwholesome practices of the drivers to include impatience with pedestrians at zebra crossings and picking and dropping off passengers at undesignated spots.
"You still find motorists, both private and commercial drivers, who are impatient with pedestrians at zebra crossing points and road intersections.
"As a result, pupils, students and the elderly are not finding it easy with motorists particularly at zebra points.
"We also talk about the issue of the commercial drivers who drop passengers at will at every point which ought not to be.
"There are designated places to drop and pick passengers, but they don't obey the rules. This is a culture that they need to overcome,'' he said.
Oghenekaro said that the FRSC was focusing more attention on public enlightenment to change the behaviour of road users, especially motorists, than traffic law enforcement.
He said experience had shown that enforcement was not enough as offenders easily pay the resultant fines and continue with their unwholesome behaviour.
"Besides, in a bid to avoid arrest by law enforcement agents, most offenders usually take desperate actions with their vehicles that endanger the lives of other road users,'' he noted.