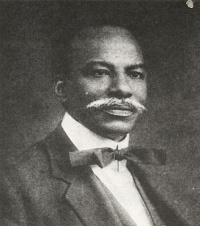 Amb. Dapo Fafowora, a historian and retired diplomat, on Thursday called on the Lagos State Government to immortalise Herbert Macaulay for his contributions to political development in Lagos and the nation.
Fafowora made the call at the maiden Herbert Macaulay Gold Lecture in Lagos.
Speaking on "Herbert Macaulay and his relevance to the excellence of Lagos,'' he said that the foremost nationalist developed grassroots politics and suffered for fighting colonial ideas.
He explained that although Macaulay had great opportunities to enjoy privileges under the colonial regime, he chose and stuck with the natives and fought for their rights and that of the state, as well as Nigeria's.
Fafowora said that Macaulay was a nationalist who was imprisoned several times for fighting for just causes against the British colonialists.
He lamented that Macaulay's house in Lagos, which was becoming a major tourist attraction was demolished, instead of being preserved, and stressed the need to begin to make amends to honour his memory.
"I am aware that Herbert Macaulay has major streets named after him in Lagos and Abuja.
"He also has two public statues erected in his memory in Lagos but for posterity and in recognition of his immense contributions to the political development of Lagos and Nigeria, there is a need to do more to honour him.
READ: Embrace peace or face my wrath, Ambode warns warring communities
"First, the Lagos State Government should urgently set up a Herbert Macaulay Foundation, with the active support of the private sector, to keep his memory and political ideals alive.
"Secondly, this lecture should be made an annual event to mark the anniversary of his death and to remind future generations of his several roles in the politics of Lagos and Nigeria, for nearly half a century.
"Thirdly, a major public higher educational institution in Lagos should be named after him.
"As an alternative, a Herbert Macaulay School of Politics and Government should be established in one of our leading Universities, and I suggest that the Lagos State University should be considered for this.
"Fourthly, in the context of teaching Nigerian history in our secondary schools, particularly in Lagos State, a course on Herbert Macaulay should be introduced and made compulsory.
"And finally, the Glover Memorial Hall is a sound reminder of our colonial past, named after Sir John Glover, the British naval officer who led the naval bombardment of Lagos in 1851.
"And he (Glover) was rewarded by being made the first colonial governor of Lagos in 1861; it should, with the permission of the trustees, be renamed the Herbert Macaulay Memorial Hall,'' he said.
The diplomat said that Sir Glover and all the colonial leaders have various streets and monuments named after them in Lagos and other states, adding that the nation's heroes deserved more recognition.
Mr Olusola MacGregor, a guest of honour, recalled that his grandfather, a journalist, floated a newspaper which Macaulay used to project his political views before setting up his own publication.
READ: Automation Of Land, Tax, Justice Administrations Underway – Ambode
MacGregor, a quantity surveyor, called on the Nigerian Society of Engineers as well as the Lagos state government to immortalise Macaulay, who he described as was a man of many parts, belonging to diverse disciplines, including engineering.
Chief Bode George, a PDP chieftain, who is a grandson of Macaulay, also joined the call to immortalise him.
George said that Macaulay practised selfless politics, devoid of compromises and witch-hunting.
He called on the youths in the nation to go into politics to arrest the current ugly trends in the nation's political landscape.
"Let all Lagosians and non-Lagosians not shy away from politics; do not leave it to the charlatans,'' he said.
George condemned current political, ideological and religious intolerance in the nation, which he said Macaulay stood against with his selfless commitment to nation building.

Load more