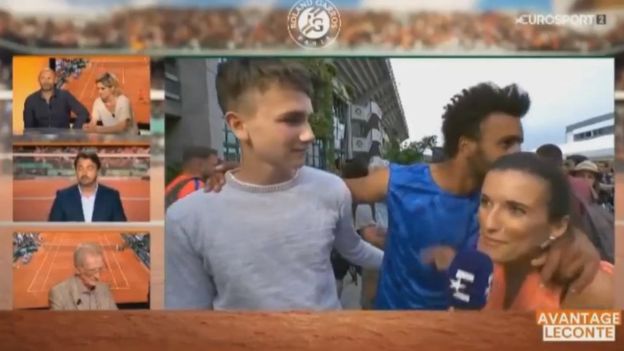 Tennis player Maxime Hamou's accreditation has been revoked by the organisers of the French Open after he tried to kiss a female reporter repeatedly during a live TV interview.
The French player, 21, kissed journalist Maly Thomas while holding her around her neck and shoulders, despite her efforts to duck away.
The French Tennis Federation (FTT) condemned the "reprehensible behaviour" and ordered an investigation.
Hamou has not commented on his actions.
The incident happened after he was knocked out of the first round of the competition on Monday.
Several anchors and commentators on the Eurosport programme Avantage Leconte laughed and clapped as it unfolded.
The episode drew ire on social media, including from French politician Cécile Duflot.
"He kisses her by force, she tries to get away, he holds her by the neck and everyone… laughs #tired," the Green MP wrote on Twitter (in French).
Quoted by the Huffington Post France, Ms Thomas described the player's actions as "frankly unpleasant".
"If I hadn't been live on air, I would have punched him."
It is the latest case to provoke allegations of harassment of female sports reporters.
In January 2016, West Indies cricketer Chris Gayle drew a barrage of criticism after he asked a TV reporter for a date in a live interview.
What does the Chris Gayle row reveal?
He was later fined $7,200 (£4,900) by his club for "inappropriate conduct".
It is not the first time Hamou, who has a career high singles ranking of 211, has caused controversy at this year's French Open.
He walked out of an interview on Friday after a journalist posed a clumsy question. On Monday he also angrily berated an umpire on court, asking: "Why are you here?"
-BBC
Load more