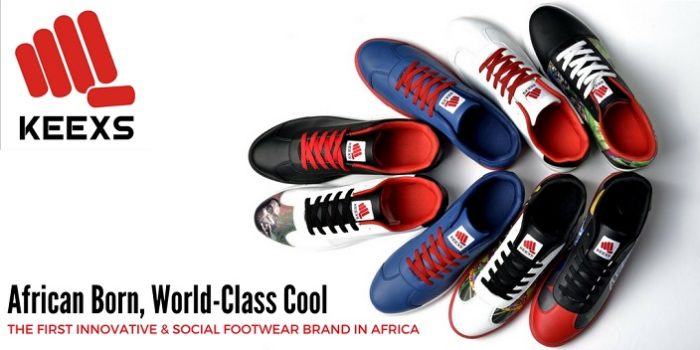 By Funmilola Olukomaiya
In celebration of Lagos at 50, KEEXS will be exhibiting her second footwear collection tagged "BILE" in Lagos on the 25th of June, 2017.
As the name depicts, IBILE means local, native or heritage in Yoruba and is also an acronym for the 5 founding regions in Lagos – Ikorodu, Badagry, Ikeja, Lagos Island and Epe.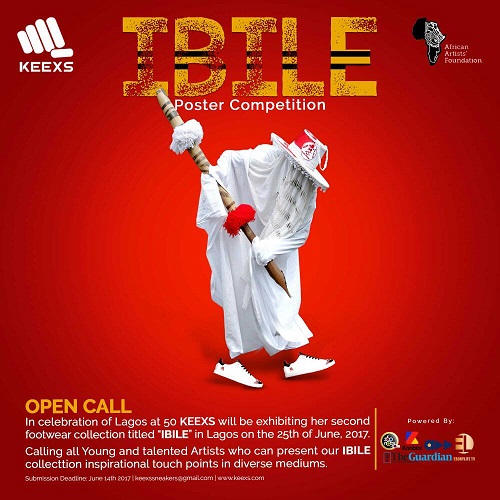 The IBILE collection is a weave of Inspiration from the city of Lagos and the Yoruba people (who are the dominant inhabitants of Lagos). As the commercial capital of the most populous black nation in the world, the city of Lagos has a very rich history and tradition.
The collection will be launched with an awe-inspiring exhibition and the brand is calling for artists to showcase their IBILE inspired artwork in collaboration with the African Artists Foundation.
Eligibility & Medium
This competition is open to all artists/photographers from all over Africa; 18 years of age or older. Submissions for consideration can be expressed in any of the following aspects: representational, expressionism, surrealism, or abstraction.
Entries must be created in any still medium: painting, drawing, photography, sculpture, digital art, prints, fiber art, collage, installations or human exhibits. You can send up to 5 images/design with the following specifications: PDF, A3 (29,7 X 42 cm ), max 5 MB / 200 dpi, CMYK colour mode.
Furthermore, each of the images must be accompanied with a write up explaining the inspiration not exceeding 200 words to [email protected]
Prize
The KEEXS Team in partnership with the African Artists Foundation will choose the fifteen (15) most creative, innovative, original and authentic posters.
These posters will be exhibited alongside the IBILE Collection Launch. Extensive Marketing of the Exhibit and Artists valued at over N2Million.
The top five winners will have an opportunity to have their works online exhibited for 1 year, on for display at the Lagos Photo Festival and also stand a chance of entering into a 1-year contract with KEEXS to work on royalty earning special projects that will have international reach.
The artists and their work will be exposed to a wide range of art fanatics, buyers, enthusiasts, influencers and high net worth individuals.
This event is supported by Scavi & Ray Winery, Guardian Nigeria, EbonyLife TV, 360Nobs, Accelerate TV, Culture Custodian and Konbini.com
Submission closes: 14th, June 2017
Send artwork to [email protected]

Load more