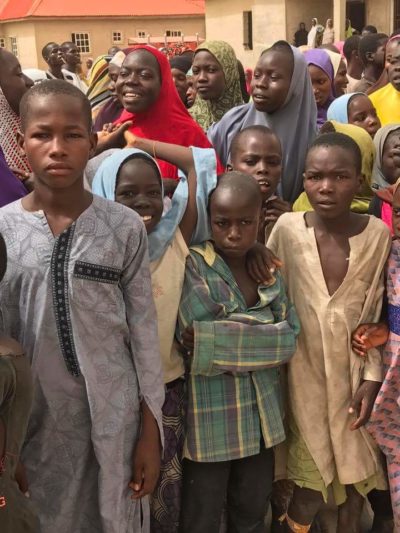 The UN Special Envoy for Global Education, Mr Gordon Brown, says there are about 11 million out-of-school children in northeast Nigeria due to the destructive activities of the Boko Haram terrorists.
Brown, former British Prime Minister and chair of the Commission on Financing Education Opportunity, revealed in New York that the commission was already intervening in the situation.
The UN envoy explained that the commission was giving more funds to help the Nigerian education system move forward.
According to him, the commission and Acting President Yemi Osinbajo are already discussing ways to secure global funds to address the education challenges confronting the northeast.
"We think there are probably around 11 million children that are not in school. We know that the Boko Haram attacks remained a huge problem and the terrain too.
"These have prevented girls, particularly, from going to school and we know that there have been many abductions.
"And they are still tragically many of the girls that were kidnapped from Chibok that have not returned," Brown said.
The former British premier, however, said his commission wanted every child to be safe at school, adding there is a new proposal to attract resources to fund the project.
The UN education envoy lauded the 30 million dollars Nigeria's Safe Schools Initiative launched in April 2014, describing it as a novel idea.
"We want every girl to be safe and boys also to be safe when they go to school but particularly girls.
"The Safe Schools Initiative is designed to help fortify the schools and also help the telecommunications between the schools and prevent the attacks.
"This is so people can get advanced warnings and to give people the security that there might be some better protection in case there was an attack.
"So the Safe School Initiative has been something that other countries adopted since Nigeria led the way.
"The Safe Schools Initiative is being implemented in different parts of the world but obviously we need more resources into the Nigerian system and that's what this new proposal is about."
Brown said ground-breaking International Finance Facility for Education could make it possible to fully finance universal education by 2020 and unlock Sustainable Development Goals.
The UN former British premier commended the UN and the international donors and partners for efforts to raise multilateral education aid to low-income countries from current 1.6 billion dollars to over four billion dollars a year by 2020.
"This up-front investment in education, modeled on the proposals of Amina Mohammed, Deputy Secretary-General of the United Nations, to convert billions into trillions.
"It can ensure the delivery of our Sustainable Development Goal promises. Indeed, an International Finance Facility for Education will not only create more educational opportunity than ever before.
"It will multiply job prospects, slow population growth, reduce infant and maternal mortality and hasten a 70 per cent increase in GDP per head by 2050.
"And for the millions of children presently locked out of an education, it will be a jolt of hope," Brown said.
Load more