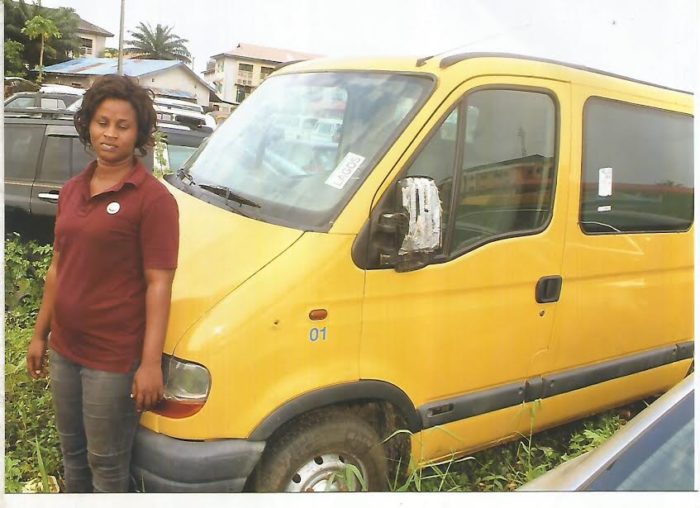 Paul Iyioghojie
A single mother of four, Aishat Akintunde, 33, has been arrested in Lagos for allegedly defrauding her Facebook lover of money and properties valued at about N5 million.
Police alleged that Akintunde,  a resident of Egbado road, Dalemo, Alakuko, Alagbada, Lagos and hailed from Abeokuta, Ogun State, Nigeria allegedly succeeded in defrauding her France-based victim, Ayobami Adeniyi after she promised to marry him and also helped him purchase a filling station in Nigeria.
Trouble started for the suspect when the DCP in charge of Federal SARS, Lagos, Ibrahim Kaoje dispatched a team led by DSP Olaniyi Festus to Sango Ota area of Ogun State to arrest a suspected female smuggler and bring her to the station following the tip off that she sold out an unregistered Renault bus with properties inside value at about N2.5 million for just N1 million.
During investigation, Akintunde allegedly told the police that she was not a smuggler and that her France-based Facebook lover shipped the bus for her to sell.
And to confirm the veracity of her claims, the police contacted the shipper of the bus who later turned out to be Ayobami Adeniyi.
Adeniyi reportedly told the police on the phone to arrest the woman and keep her in detention that he was on his way to Nigeria.
Within two days, Adeniyi arrived Nigeria and went straight to the FSARS office, Lagos to narrate what happened between him and the suspect.
Adeniyi allegedly stated: "I am a Nigerian from Oyo State and based in France. I met the suspect Akintude on Facebook in November 2016. And in the cause of our discussion, the suspect told me that she was a divorcee and that if I was ready for a relationship I should send her money to rent an accommodation and I sent the sum of N100, 000 to her because I was desperately in need of a wife from Yoruba land.
"In February 2017, the suspect told me that her mother was a big time oil dealer in Nigeria managing three filing stations. She later told me that her mother was about to sell off one of the filing stations for N4 million and she advised me to purchase the station so that any time I returned to Nigeria to settle down with her, I would have investment to fall back on. She sent three pictures of the three filing station to me to convince me.
"I accepted her advice thinking that she was a honest woman who would be a good house wife. Before I started investing in the filing station, I requested to speak with her mother to confirm her claims and her mother equally confirmed through phone call that she was an oil dealer operating three filing stations in Nigeria and that she was about to sell one of the station for N4 million.
"Following her mother's confirmation, I told the suspect to open an account in her name for me to be transferring money into it till the N4 million was completed to pay for the filing station. I transferred the sum of N750,000, N650,000, 250,000 and N200, 000 into her account. I equally sold my Peugeot car in Nigeria for N1 million and remitted the money into her account.
"I also shipped a Renault bus with properties inside valued about N2.5 million to her to sell and pay for the filing station. But I was surprised to hear that she did not buy any filing station, but instead converted all my money to her personal use and plunged me into dept.
"I am now appealing to the Nigerian Police to help me recover my money from the suspects," Adeniyi appealed.
In her defence, Akintude allegedly admitted receiving only the sum of N1.5 million cash from the complainant and not N5 million which he was claiming and a bus which she sold for N1 million and used the process to buy an uncompleted building at Ijoko area of Sango Ota, Ogun State.
A police source said the suspect would be charge to court after the conclusion of investigation.

Load more