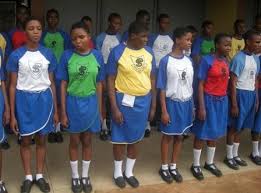 A Non-Governmental Organisation, "Ane Osiobe International Foundation'' on Wednesday donated some learning materials to Government School for the Blind, Jabi, Abuja, in a bid to assist the less privileged students.
The News Agency of Nigeria (NAN) reports that the materials included school uniforms, text books and writing materials to be used by the pupils and teachers of the school.
Presenting the items to the school, president of the organisation, Mr Stephen Osiobe, said that the intent of the donation was to assist in the delivery of quality education to the less privileged.
Osiobe said that the foundation has been committed to providing adequate resources in the last few years to fight illiteracy in the country, especially the less privileged.
"Our gesture for providing learning materials to all the pupils of the school is one step and many more will come.
"Our vision is to give hope to the less privileged in the society and the country at large.
"The foundation is still at the stage of feasibility study and our team of experts in the USA are still working on the project to better the lives of the less privileged,'' he said.
He emphasised on the need to educate young people, saying that it would help secure their brighter future, not just for the children but for the society at large.
The president urged parents to take charge of their wards' education, rather than relying on the efforts of the government and NGOs, whose responsibilities are minimal and complementary.
READ: Students Protest Paralysed Academic Activities At GTC Abakaliki
According to him, the donation was made possible through personal efforts.
He also assured the school's administration of his organisation's readiness to provide more of such assistance.
Receiving the donation, the school's Head Teacher, Mrs Regina Dung lauded the organisation and promised that the items will be used judiciously and for the purpose intended.
The Head Teacher, however, called on the Ministry of Education to provide adequate assistance for the smooth operation of the school.
Load more