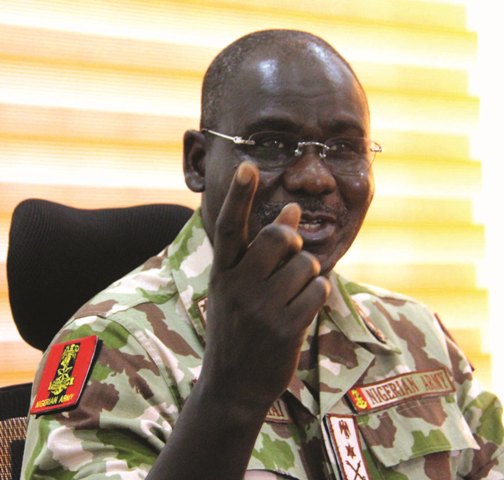 Lieutenant General Tukur Yusuf Buratai, the Nigeria's Chief of Army Staff, was appointed to the position by President Muhammadu Buhari in July 2015. At the time he came in, the Boko Haram menace had become a monster, difficult to control. Two years after, the story is different. In this interview with ADEMOLA ADEGBAMIGBE, DEJO ADEBISI, YOMI OSOBA, AYORINDE OLUOKUN and FEMI IPAYE, Buratai appraises the war so far, factors that were responsible for the past failures and the currents success. He explained also the rationale behind the establishment of the Army University and other issues.
Q: We congratulate you, your officers and the entire rank and file on the war on terror. How will you appraise the campaign so far since July 2015 when you were appointed Chief of Army Staff?
Thank you so much and welcome to my office at the Military Command and Control Centre, Maiduguri. I must say that we give gratitude to God, because of the significant successes recorded in our fight against terrorism and insurgency to the point that I can confidently state that we have succeeded in defeating the Boko Haram terrorists. They no longer constitute danger to the corporate existence of this country as was the case before my assumption of office as Chief of Army Staff on 16th July 2015. We have chased away the terrorists and recaptured all the hitherto held territories, rescued over twenty thousands of persons abducted by them including some of the Chibok school girls. We have opened roads that were closed for over 3-5 years. Gradually life is returning to normal here in the North East and much more. Invariably, if you compare what was obtainable two years ago and now, I would say, so far, so good.
In recent times, you have met with different stakeholders in the education sector in pursuit of establishment of an Army University. Why is it important for the Army to have its own University?
We are still in the process of establishing the Army University. It has not been approved yet and once it is approved, we hope that it will take off successfully and that is why we have been making the necessary contacts with all the stakeholders who will facilitate the establishment. When you look at it, the need for this university as a sort of solution centre where different challenges confronting the Army will be tackled is long overdue.
You know that the development of our military industrial complex is very low now and this is not because we lack the capability or the resources to, but because we don't have a structure to drive it to attract challenges and become a solution centre. So, the University will provide a platform where you can throw such a challenge. Once you have the idea, the research will be done, solutions will emerge – how do you achieve this? How do you realize this? It is then that we now move into the military industrial complex where you can have the eventual production as the case may be. There are other areas also- what we are doing now. As it is, we don't seem to have the strategy to start from the conception up to the production of any military hardware, or any challenge to the military in terms of strategy, even in our operations, logistics and indeed, general administration and this also informed the need to establish the Nigerian Army University.
It's a specific solution centre for the Army on science and technology and there are other universities of similar concepts around the world. So, we must keep pace with modern trends so that we don't lag behind. Though the University will specifically be for the Army, we will also look at the wider society, especially on challenges that have direct bearing to the Army or to the military on which we can collaborate. We can also find solutions, do research and in that perspective, we can now open the University to the general public because the academic environment will not be restricted to the Army. That is the concept. And you see, every year, we sponsor officers and soldiers with huge amount of money to study in similar institutions at home and abroad, so this University can help us to conserve funds, since it is our own, and we will even have more resources to sponsor our officers, to do research on our challenges and requirements.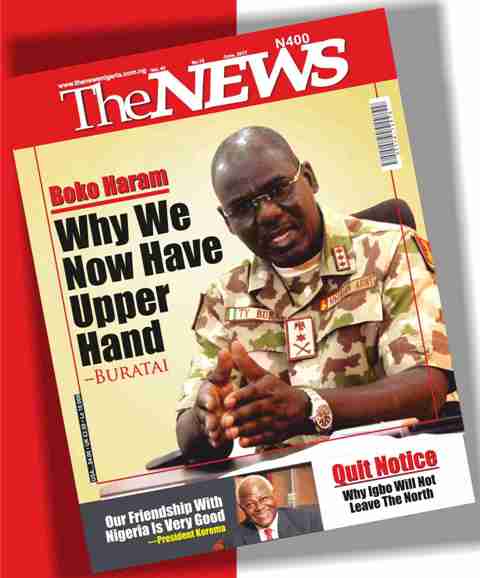 But do you plan to have collaborations with similar institutions inside and outside the country?
We will definitely collaborate with institutions inside and outside the country. There are many institutions that we can collaborate with. There are also other government institutions that we can also collaborate with. We will collaborate with the other Universities, even the Space Agency, we will collaborate with them. National Institute for Technology Research and Development is one of those institutions that we will collaborate with. Before we arrived at this decision, we set up a committee that went to other similar universities and institutions abroad and we have a very good paper on that on some of the requirements and we have forwarded it to the National Universities Commission.
What will be the place of the Defence Industry Corporation?
Definitely, while we do the research, we will be able to develop at whatever level that we can, but we must link up with the Defence Industry Corpoation Nigeria to further test such products, particularly when they have to do with arms and ammunition, explosives and the rest. We will collaborate with them, using the facilities that they have. DICON was established in 1964, virtually at the same time with other similar institutions in other countries like in Brazil. I was in Brazil recently and saw the great strides they have made in the development of their military industrial complex. It is so amazing- they are producing missiles, rockets even aircraft and so on. So, we can ginger the military-industrial complex to really pick up in Nigeria through the establishment of such a university.
Are you considering private partnership, even though we know that you operate in a very sensitive area?
Even in Brazil, they don't produce everything on their own, they are into partnership even in their industrial complex. So, definitely, we will do the same thing here. And we are already doing that in other areas and we will explore other areas. One of the major challenges will be in terms of funding which is very critical. So, if we are able to get the government support with the funding, you can be rest assured that we will go far. So, these are issues that we need to sort out.
Talking about funding, how well would you say the government has done in meeting your needs since you became the Chief of Army of Staff?
You can relate that to our success in the war against Boko Haram. If we have succeeded, you should know that our needs are being met. We have been able to manage the resources given to us effectively to ensure that our needs are met, that the needs of our troops in the field are met. But funding will never be enough, because the needs are so much. And you can never cater hundred per cent to the needs of the troops on the field because of competing demands in the field and in the barracks. But by and large, I think, if we achieve 75 per cent, 80 per cent in terms of meeting our needs, it is a pass mark. We've been doing our best to see that the troops' requirement are met and the government is also doing a lot to help us to procure equipment, to take care of our troops.
If you were here about two years ago, you would see six of us here in different uniforms, different boots. But you can see that we have been able to change that now. We have not been able to achieve 100 per cent. But we have been able to solve it about 90 per cent. And it also depends on how we even use some of the equipment and the resources that we have. We have to prioritize based on our needs and this has been a major strong point in our success. We have been prioritizing based on what we have on ground. Government's revenue now is not the same with what we used to have. We know we have recession and it is affecting everybody and the military is not an exception. But by and large, I think we have been able to manage and be satisfied with what the government is giving to us.
What makes General Buratai different from the others before him?
This question is a very difficult one and that's the truth. I cannot know what others think of me. I think I am a normal human being. I know things were difficult. There was a time we were even trying to hide ourselves from the public because of the challenging situation that troops faced even in moving here and there! Just like I said, the kitting, how bad it was, the mobility and so on. And it reflected in their operations, and conduct with many causalities, setbacks and so on. So, when I came in, I took on the challenge of applying what we have been taught about warfare.
I never shy away from the principles we were taught in warfare in academies, in our staff colleges, defence colleges, in war colleges because they are all the same. Just apply the principles and you will discover that you will do well, make a great change. But when you deviate from the principles is when we have problems. Even administration, as simple as it is, is a major principle of warfare. You must administer your troops, provide for them, see to their various challenges and come up with solutions to address them. So, if you serve them (troops) well, you don't have problem. You must have an aim- it is one of the principles of war- selection and maintenance of the aim.
Lieutenant General Tukur Yusuf Buratai
So, I have a focus- I say, okay, Boko Haram must be defeated and that was the task given to us by Mr. President. That's the focus. What do you do to defeat Boko Haram? We must boost the troops' morale- their morale had been dampened for years. We must make sure that we get the right equipment and so on and you have to prioritize, you have to plan and so on. Keeping up the troops' morale is also a vital principle in warfare. If you allow their morale to go down, you won't be able to achieve the desired result. And definitely, you know that the troop's morale was very, very low- they were never visited, even when they came, it was just for a few hours and they hardly spent a day with them. They didn't go to the field to see what the challenges of the troops were.
But when I came, I went down to the field, the various trenches to see the troops , I even slept there with them and all these turned around our perception by the troops. When my advance convoy was ambushed, I didn't turn around and say 'because Boko Haram is along the road, I will go back.' If I had turned back, it would have been a different story. But we went to together to clear the ambush and to even arrest those criminals. So, these are the issues. There are so many other principles that when they are applied, you will be successful.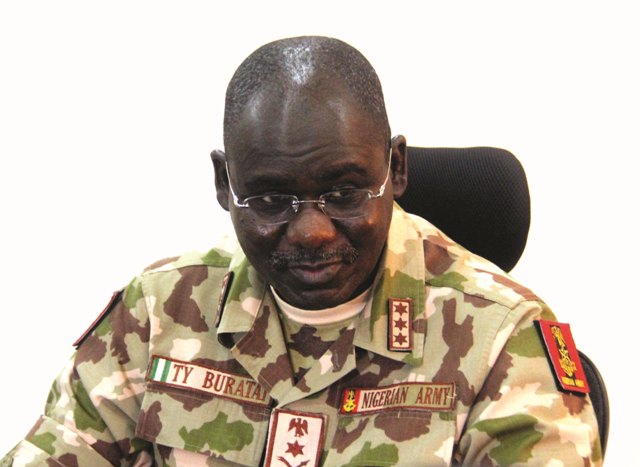 I think overall, it has to do with the leadership. I have been placed in a position of leadership and as such, must show that leadership, you must apply that knowledge that have been gained over the years. And luckily, I have responsive commanders- from the Theatre Commander, down to the Brigade Commanders, the Commanding Officers. They are very responsive. And I envisioned that we must be responsive. I told them that these are the challenges on the ground and I discovered that we have not been responsive to our needs, the challenges, the needs of the troops, even to the focus and desire of Nigerians. So, I say we must be responsive; we must have a responsive Nigerian Army in the discharge of its constitutional responsibilities. This is a vision that I kept faith with and have continued to pursue to make sure that we achieve our objectives and the result today is the success we have.
Read more here: http://thenewsnigeria.com.ng/2017/07/why-we-now-have-upper-hand-on-boko-haram-buratai/http://thenewsnigeria.com.ng/2017/07/why-we-now-have-upper-hand-on-boko-haram-buratai/

Load more