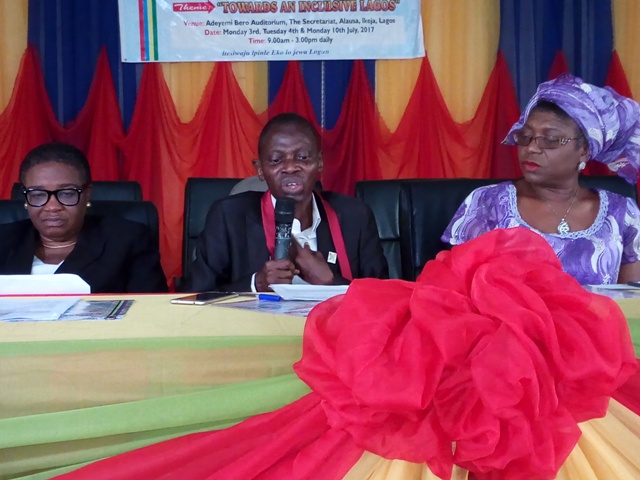 The Lagos State Office for Disability Affairs, LASODA has started a three-day Sign Language workshop for government officials as a way of bridging communication barrier between hearing-impaired individuals and civil servants who provide services to such persons.
Speaking at the opening session of the sign language training exercise on Monday in Alausa, Ikeja, Lagos, Southwest Nigeria, the Commissioner for Youth and Social Development, Uzamat Akinbile-Yussuf said that the training workshop was designed to promote better welfare services; rights, privileges and social integration of people living with disabilities in the State.
According to the commissioner who was represented by the Director of Administration and Human Resources in the Ministry, Mr. Lanre Rufai, the training presently focuse on public servants who often had challenges relating and communicating with the hearing-impaired members of the society, adding that the training would be extended to other members of the society in due course.
"The objective of this training is to ensure that in every Ministry, Department or Agency of the State Government, there must be at least, one or two people who can communicate with persons with hearing impairment, who may be there to make inquiries or for other official purposes" the commissioner explained.
The Permanent Secretary, Ministry of Youth and Social Development, Mr. Hakeem Muri-Okunola in his address delivered by the Director of Social Welfare in the Ministry , Mrs. Laide Latinwo, expressed the belief that the skill of sign language would further endear the able-bodied in the society to those with hearing impairments and thus improve communication flow and understanding.
He urged the participants to put the knowledge that would be acquired in the course of the training into practice with the aim of developing an interest in sign language interpretation.
Also speaking at the event, the Chairman, LASODA Governing Board, Dr. Waheed Oki called on the participants to henceforth become representatives of the Office wherever they go, by easing the deafness barrier usually confronting persons living with disabilities.
He said that the Office would reward outstanding participants who excelled above their peers at the end of the three-day training as a way of sustaining their interest in sign language.
The General Manager of LASODA, Dr. Babatunde Awelenje emphasised the need for members of the public to support the inclusiveness initiative of the State Government, stressing that the more residents of the State were able to communicate through sign language without hindrance, the better for the society at large.

Load more