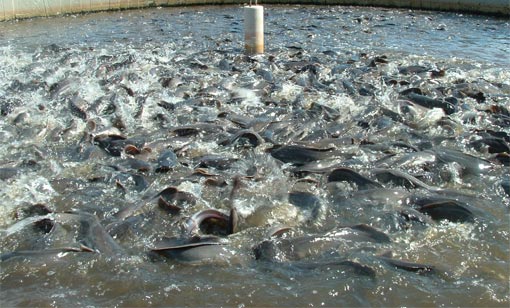 Stefania Marrone, Head, Regional Cooperation Section, EU Delegation to Nigeria and ECOWAS, said developing framework on Fishery and Aquaculture for ECOWAS countries could create over 100 million jobs.
Marrone said this on Tuesday in Abuja at the stakeholders' meeting on the Development of ECOWAS Fisheries and Aquaculture Regional Policy and Strategy Framework for member countries.
The stakeholders in agriculture from the European Union (EU), Food and Agriculture Organisation (FAO) and ECOWAS are currently meeting in Abuja to develop a framework on Fishery and Aquaculture for ECOWAS countries.
She said that the fisheries and aquaculture sector played an important role in food and nutrition security in West Africa.
She said the sector has estimated annual catch of 2.8 million tonnes with commercial values at 3 billion dollars and job creation for over 100 million people in fishing, aquaculture operations, processing and ancillary industries.
According to her, fish is still the only animal protein affordable for most households.
Marrone, however, said that in spite the importance, the sector has not been fully integrated into the priorities of the national and regional agricultural development within the ECOWAS zone.
She said to improve the situation, there is need to develop a regional fishery and aquaculture policy to address food and nutritional security in the region.
The EU official said that nutrition policy on fisheries and aquaculture represented an untapped opportunity that must be explored to ensure sustainable healthy diets.
READ: Farmers urged to key into yam export initiative
Tchambakou Ayassor, ECOWAS Commissioner for Agriculture, Environment and Water Resources, said there was urgent need to promote sustainable fisheries and aquaculture policies and design climate change adaptation strategies for food security and nutrition.
He noted that the sector was being threatened by many challenges that could jeopardize the livelihoods, food security, and nutrition status of marginalised people dependent on the sector.
"The threats include over exploitation of resources through illegal or pirate fishing, pollution, destruction of mangroves, degradation, and climate change and ocean acidification.
Ayassor advised the meeting to strike a balance in accommodating all the challenges.
Mr Nourou Macki Tall, the Acting FAO Country Representative, who was represented by Mr. David Patrick, the FAO Nigeria Programme and Liaison Officer, noted that FAO played a leading role in ensuring comprehensive fisheries policy for the ECOWAS region.
He said this has become important because marine and inland fisheries, together with aquaculture, provide food, nutrition and a source of income to around 820 million people around the world.
"It includes harvesting, processing, marketing and distribution.
"For many, it also forms part of their traditional and cultural identity,'' he said.
Tall said inadequate policy in place is one of the greatest threats to the sustainability of global fishery resources, saying that ECOWAS must not be caught in the web.
The three-day meeting under the auspices of EU and FAO was being attended by agriculture commissioners and representatives from the ECOWAS states which include Nigeria, Ghana, Mauritania and Liberia among others.
Load more