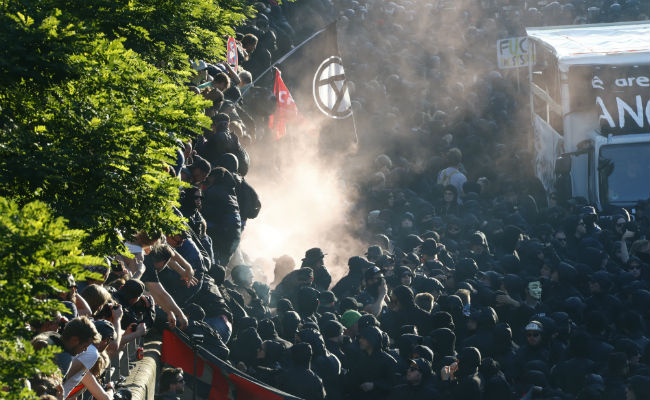 Police say nearly 75 police officers were injured in clashes with protesters before a G20 summit in Hamburg, tarnishing the start of a meeting.
Chancellor Angela Merkel is campaigning for a fourth term in September.
The summit, which starts in earnest on Friday, is a chance for her to polish her diplomatic credentials but would be disastrous if marred by widespread violence.
She met U.S. President Donald Trump for an hour on Thursday evening, but less than an hour later police clashed with anti-capitalist demonstrators near the summit venue, firing water cannons and pepper spray at hundreds of black-clad protesters after they threw bottles.
Police said that three of the injured officers required treatment in hospital.
The pilots of a police helicopter sustained eye injuries when laser pointers were directed at them, police said.
Protesters damaged cars, set other objects ablaze and threw bottles in roving clashes that lasted until midnight.
A Reuters eyewitness saw at least one protester with blood on his face being treated.
"Welcome to Hell" was the protesters' greeting for Trump and other world leaders arriving for the two-day meeting.
Merkel has taken a high-risk gamble by choosing to hold the summit in the northern port city of Hamburg, partly to show the world that big protests are tolerated in a healthy democracy.
Before meeting Trump, she struck a consensual tone, holding out hope for agreement on the divisive issue of climate policy and pledging to broker compromises.
She promised to represent German and European interests at the summit, but added:
"On the other hand, as hosts we – and I – will do all we can to find compromises."
Trump faces a testy confrontation at the summit with leaders of the other big Group of 20 economies after deciding last month to pull the United States out of the 2015 Paris climate deal.
German Foreign Minister Sigmar Gabriel cited "many commonalities" on foreign policy after a meeting that included Merkel, Trump, U.S. Secretary of State Rex Tillerson, and Trump family members and advisers Jared Kushner and Ivanka Trump.
He told German broadcaster that "clear differences" on climate change and trade continued to divide the two allies.
Merkel said there were "various options" that could be discussed, noting that nearly all other G20 countries besides the United States stood by the accord.
As the leaders began holding informal meetings, thousands of protesters from around Europe, who say the G20 has failed to solve many of the issues threatening world peace, poured into Hamburg to join the main demonstration.
Police expected around 100,000 protesters in the port city, some 8,000 of whom are deemed by security forces to be ready to commit violence.
Police said no fewer than 13,000 protesters joined the main march on Thursday, including around 1,000 black-clad and masked anarchists.
Up to 20,000 police officers from across Germany are on hand.

Load more