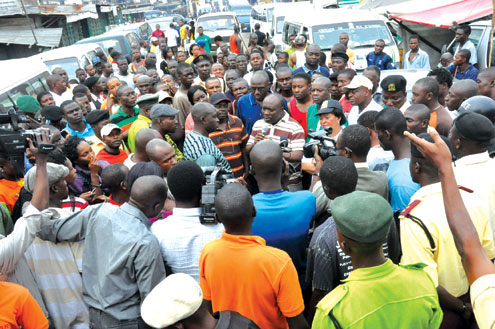 Some Lagos lawyers have condemned arrest and detention of erring pedestrians in "Black Maria," by officers of the Lagos State anti-indiscipline outfit, Kick Against Indiscipline (KAI).
In interviews in Lagos on Saturday, the lawyers urged recognition of and respect for the citizens' rights to life, personal liberty and movement.
KAI was established in November 2003.
Part of its mission statement is to eradicate environmental nuisance.
It is charged with enforcing environmental laws including ensuring that the state residents use pedestrian bridges to roads where such bridges are provided.
In the discharge of their duties, KAI personnel arrest erring pedestrians and put them in a police van popularly called Black Maria.
These pedestrians, in many cases, are kept in the van without access to legal representation. They eventually pay a fine.
Some Lagos-based lawyers condemned the practice, describing it as infringement on the rights of citizens
Mr Festus Keyamo, also a rights activist, said that the practice was wrong, unconstitutional and barbaric.
According to him, any person accused of an offence should be charged before a competent court to determine whether he is guilty.
He added that that such people should be entitled to adequate time to defend themselves.
"Any person accused of an offence should first be entitled to adequate time and facilities to defend himself.
"Secondly, such a person must be charged before a competent court of law that will determine his guilt or otherwise.
"Thirdly, you cannot be the accuser, the prosecutor, and the judge in any case.
"KAI cannot arrest, try and subsequently convict an individual; it is the worst form of human rights abuse.
"Also, by imposing fines on alleged offenders instead of referring them to a mobile court, KAI simply arrogated to itself, the powers of a trial court,'' Keyamo said.
He noted that KAI was an agency of the executive arm of the state government not the judiciary.
"I know that Lagos State Government meant well by building those bridges aimed at protecting human lives.
"However, we cannot throw away human rights on the altar of trying to maintain law and order," he said.
Similarly, Mrs Mandy Asagba, the President of the African Women Lawyers Association of Nigeria (AWLAN), condemned the practice.
Asagba, however, urged that citizens should be properly guided so as not to flout government rules and regulations.
"The innovation by the Lagos State Government is commendable as its purpose is to help to preserve lives.
"However, arresting pedestrians and confining them to a Black Maria constitutes an infringement on their rights.
"To obtain money from these pedestrians also constitutes extortion and corruption.
"Why allow them to err and then make arrest?
"Pedestrians can be guided to use the bridges instead of waiting for them to offend the law and then make arrest?" she asked.
Asagba called for a monitoring team to check the activities of KAI workers.
"Government must ensure that its agencies do not abuse powers vested in them," she said.
Mr Ebun-Olu Adegboruwa, also, a lawyer and rights campaigner, told said that government of a state had the responsibility to make laws for order and good governance.
Adegboruwa, however, advised that there should be a limit to some powers exercised by some government agencies.
"Under Sections 214 to 216 and 235 of the 1999 Constitution, only the police is vested with the right to effect arrest of a citizen.
"The state government must strike a balance between maintenance of law and order and respect for the rights of its citizens.
"I believe that by the provisions of the constitution, everybody has the right to be tried by a competent court within a reasonable time,'' he said.
The lawyer added that arrested persons should be given the opportunity to defend themselves.
"Even the mobile court has its own shortcomings because, there, a lawyer is forced on you, a charge is read to you without the opportunity of making a defence, and within 30 minutes, you are already a convicted person.
"These practices are totally unconstitutional," he said.
Justice Ugochukwu Ogakwu of the Court of Appeal, Lagos Division, said that every citizen was at liberty to enforce his rights.
"I have written a judgment in a case where a lady, who went out to buy medication on an environmental sanitation day, was bundled in a Black Maria and given a fine of 2,000.
"She came to court to enforce her rights, and on appeal, I gave judgment in her favour,'' Ogakwu said
Some activities checked by KAI in Lagos State include street trading, illegal parking, improper refuse disposal, defecation and urination in public places, as well as cooking on roads.

Load more