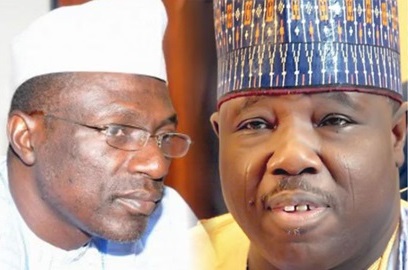 The Supreme Court on Wednesday upheld an appeal filed by the Ahmed Markafi's faction, challenging the affirmation of Sen. Ali Modu Sheriff as the National Chairman of the Peoples Democratic Party (PDP).
The Makarfi-led caretaker committee of the party had on March 16, filed the appeal against Sheriff's position.
The Court of Appeal in Port Harcourt on Feb. 27 declared Sheriff as the legitimate national chairman of the party.
However, in its judgment, Justice Bode Rhodes Vivour held that the appeal had merit.
The presiding Justice further held that the National Convention of the party held on May 21, 2016 was validly convened in line with the party's constitution.
"Sets of documentary evidence before the court have shown that Sheriff's appointment as acting chairman of the party ended with the resolution from the convention.
"The National Conventions of Political Parties are the supreme organs which control every other organs of the party.
"In the light of this, the highest organ of the party did not breach any laws by dissolving the national executive committee headed by Sheriff at that convention,'' he said.
According to the court, the appointment of Makarfi-led caretaker committee is in line with the constitution of the party.
"The caretaker committee of the PDP led by Sen. Ahmed Makarfi is hereby affirmed as the authentic national leadership of the party.
"The judgment of the Court of Appeal, Port Harcourt Division delivered on Feb.27 is hereby set aside,'' he held.
The panel also awarded N250, 000 cost against Sheriff.
Gvernors Nyesome Wike of Rivers, Ayo Fayose of Ekiti and former governor of Kano State, Ibrahim Shekarau attended the session.
Many party faithful and chieftains including Markafi, Sen. Ben Obi, Chief Bode George, Chief Dayo Adeyeye, Prof. Jerry Gana, among others were also present in court.
Load more