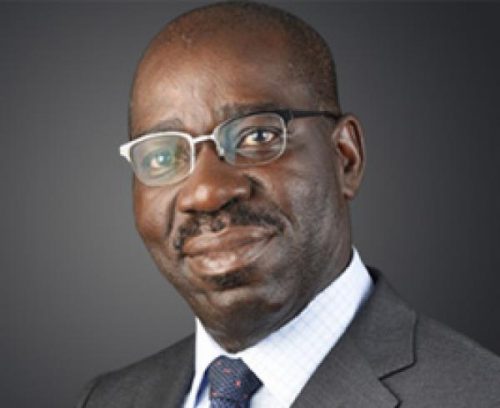 Jethro Ibileke/Benin
Worried about the rising cases of trafficking and desperation to travel abroad, which has been notorious in Edo, the State Governor, Mr. Godwin Obaseki, has said that his administration would soon set up a special task force to fight trafficking and desperation to travel.
The governor made the disclosure Thursday in Benin, when he declared open the 4th Edo Women's Conference, put together by a non-governmental organisation, Edo Women's Development Initiative (EWDI).
He disclosed that the task force would be headed by the State Attorney-General and Commissioner for Justice, Professor Yinka Omorogbe and would backed by security operatives.
Obaseki also berated the political class whom he said refused to publicly condemn the craze for abroad travels.
"We are setting up a special task force on anti-trafficking. My Attorney-General will head the task force. We are in touch with security agencies to give us a special crack team that will support the task force.
"Our politicians have refused to talk about it [trafficking] because it has large economic impact. We move around the city and you see young girls poping their heads from buildings and they say they are learning hair dressing; some of them are recruitment centres," he said.
The governor, who noted that most of the trafficking victims were barely educated, said his administration was focusing on basic education to ensure that they progressed in their education pursuits after primary education.
He disclosed that with the support from the World Bank, his administration was reconstructing the Benin Technical College and would renovate other technical colleges in the State to promote technical and vocational studies to engage young people.
Delivering the keynote address titled: "Trafficking within the Global Context; Nigeria as a Country of Origin, Transit and Destination," an anti-trafficking activist, Dr. Esohe Aghatise, lamented that 60 percent of the over 800, 000 illegal immigrants, as at two years ago, were Nigerians and that 80 percent of the number were from Edo State.
She disclosed that there were 26 unidentified graves of African immigrants in the city of Catania, in Libya and that the mayor of the city told her that he believed most of them were Nigerians.
"Our youths do not have focus again, they want to make money by all means," Aghatise said.
The Chairperson, EWDI, Omorogbe, said the Group was formed by women of like minds who were interested in the development of Edo women through various outreaches, like town hall meetings, health services, advocacy and others.

Load more