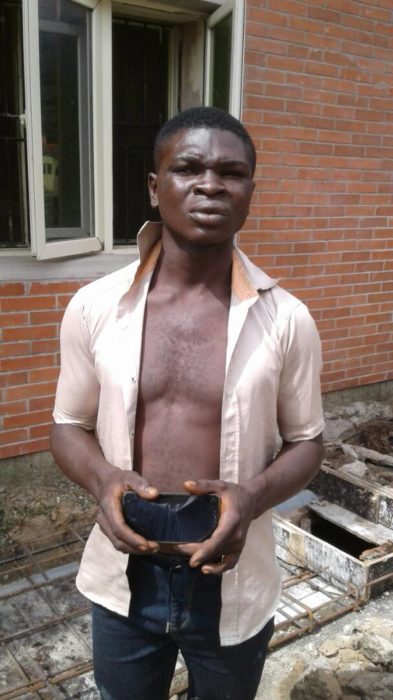 Operatives of the Lagos State Environmental Sanitation and Special Offences (Enforcement) Unit (Task Force) have arrested a notorious phone thief who specialises in stealing phones and other valuables in Oshodi.
Olayinka Egbeyemi, Chairman of the agency disclosed that the suspect snatched a 'Gionee P5' phone from a lady who alighted from a commercial bus on Oshodi bridge.
He said the enforcement team of the agency who were alerted immediately after the incident, chased the suspect, recovered the phone and got him arrested.
Egbeyemi added that preliminary investigation conducted by the agency revealed that the suspect, always pretended to be a 'bottled water' hawker around Oshodi.
Imploring members of the public to be very vigilant as criminals now pretended to be street traders/ hawkers, he confirmed that the suspect had been charged to court on the directives of the Lagos State Commissioner of Police, Fatai Owoseni.
Miss Onyejekwu Perpetual, owner of the phone, who is a medical representative of a pharmaceutical company said the criminal snatched her 'Gionee P5' phone while she was busy arranging her luggage at Oshodi Bus-stop.
"I was coming from a field work at Ojuelegba, as I alighted at the bus-stop at Oshodi beside the pedestrian bridge, the criminal who pretended to be hawking 'bottled water' moved closer to me and forcefully snatched my phone and ran away," she said.
Perpetual stated that it was the enforcement team of the Lagos State Task Force who heard when she shouted 'thief' that ran after him before he was arrested and my phone recovered.
The suspect, Owoeye Lekan confessed to have snatched the 'Gionee P5' phone in order to buy baby things for her wife who is carrying a four-month old pregnancy.
He said "Since I don't have money to buy baby things, I always dispossessed people of their valuables," he said.

Load more