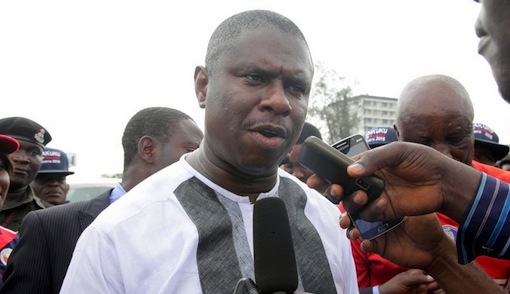 The Nigerian Maritime Administration and Safety Agency (NIMASA), Dr Dakuku Peterside, says the agency will present the Anti-Piracy Bill to the National Assembly soon to fight piracy in the nation's waterways.
Peterside disclosed this in an interview with the News Agency of Nigeria on Monday on the sidelines of the celebration of African Day of the Seas and Oceans in Nigeria.
He said that the agency would be sending the Anti-Piracy Bill to the National Assembly as an Executive Bill.
"We have received assurances of accelerated passage of the bill and before the end of this year the bill will become a law and we will have legal backing to fight piracy and criminality on our water ways.
"There have been a lot of concern about piracy within the Gulf of Guinea and Gulf of Aden.
"The recent statistics published by the International Maritime Bureau based in Malaysia showed that there was a drop in incidents of piracy within our waterways.
"This is possible because of the few things we are doing with the Nigerian Navy, enhancing our intelligence gathering mechanism and inter-agency as well as inter-departmental collaboration,'' Peterside said.
He said that the Blue Economy was the most recent concept in economy in repositioning the littoral states.
Peterside said that the Federal Ministry of Transportation had recently empanelled a committee to come up with a Blue Economy policy.
He said that Blue Economy could generate a lot of resources in terms of fishes, aquaculture, transportation, power generation, which would generate a lot of wealth for Nigerians.
The NIMASA chief said that there was need for Nigerians to take advantage of the Blue Economy.
Rear Adm. Ferguson Bobai, Chief of Training and Operations, Naval Headquarters, also told NAN that there was need for continuous inter-agency collaboration to enable all the agencies to achieve quick results in their responsibilities.
Bobai commended NIMASA's efforts in taking bold steps in working toward making the Anti-Piracy bill a law.
Speaking on the celebration of African Day of Seas and Oceans, the Chief of Naval Staff (CNS), Vice Adm. Ibok-Ete Ibas, said NIMASA being the government regulatory agency, should promote maritime safety and develop indigenous commercial shipping.
Ibas said that NIMASA's functions highlighted the need for synergy among maritime regulators and law enforcement agencies operating in Nigerian maritime domain.
The CNS, who was represented by Bobai, commended NIMASA for positively projecting Nigeria's image within the international maritime community.
He said that a team would be going round to sensitise stakeholders on Harmonised Standard Operating Procedures on Arrest, Detention and Prosecution of Vessels and Persons (HOSP-AD&P).
Ibas said that this would go a long way in ensuring seamless operationalisation of the document through the adoption of common procedures and practice in facilitating good maritime governance.
"`With the collaboration of the Ministry of Justice, Defence Headquarters and NIMASA, the HOSP-AD`&P was launched on Jan. 26, 2017.
"The Celebration of African Day of the Seas and Oceans will enhance the attainment of Code of Conduct for repression of piracy and illicit activities at the sea adopted by the Heads of Government of ECOWAS.
"Africa's Integrated Maritime Strategy (AIMS) is created and developed as a tool to address Africa's maritime challenges for sustainable development and competitiveness.
"AIMS also seeks to foster more wealth creation from Africa's oceans, seas and inland waterways by developing a thriving maritime economy and realising the full potential of sea-based activities, '' Ibas said.
In his remark, the Chairman of the occasion, Mr Norrison Quakers, SAN, attributed attitudinal and disposition as the greatest challenges facing Africans.
Quakers said that there was need for Africa to have the political will to ensure quick facilitation of applicable laws.
He urged African countries to minimise damages, adding that Africa should ensure enforcement of ocean protection against toxic wastes and other dangers in the ocean.
Quakers said that there was need for an institution to be funded independently to discharge its statutory functions.
He, however, encourage growth of 11African countries to take full advantage of the maritime domain.
The Executive Director, Operations in NIMASA, Mr Joseph Fashakin, commended all agencies in support of NIMASA's commitment to ensure Nigeria's maritime domain was free and safe.

Load more