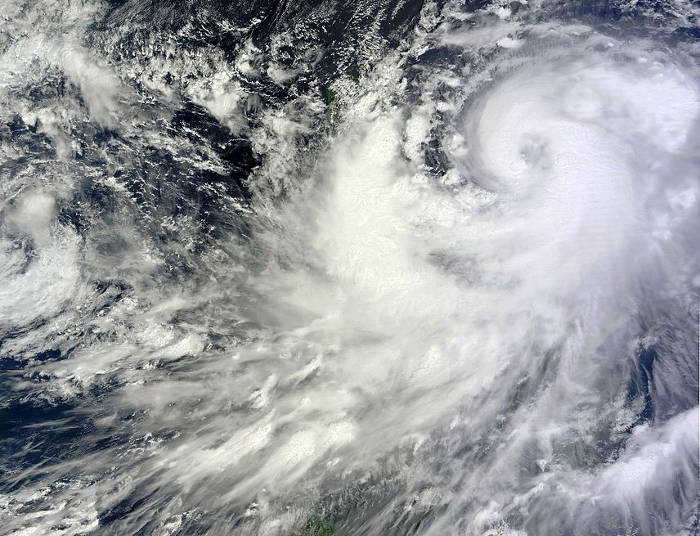 Taiwan is preparing for the arrival of Typhoon "Nesat", expected to slam into the island on the weekend, officials said.
The country's Central Weather Bureau has issued a land and sea warning for the typhoon.
According to the bureau, the centre of Nesat, currently south-east of Taiwan and moving at a pace of 16 km per hour is expected to hit eastern Taiwan sometime on late Saturday or early Sunday.
Nesat, the first typhoon to hit Taiwan this year, is expected to affect weather across the island nation and bring heavy rainfall to eastern Taiwan, officials said.
"In eastern Taiwan, it's possible to see mud flow being triggered by heavy rain brought by Nesat, residents are urged to avoid going out over the weekend,'' Taiwan's Premier Lin Chuan said.
Lin said that disaster prevention work would be carried out in order to minimise damage to agriculture.
Hundreds of tourists in mountainous areas of eastern Taiwan were evacuated a state-run Central News Agency said.
Ferry services between Taiwan's main island and offshore islets, such as Orchid Island and Green Island off the south-eastern city of Taitung, were suspended.
In eastern Taiwan, several events scheduled over the weekend were cancelled.
Ferry services between Taiwan and the Penghu Islands, located in the Taiwan Strait, were also suspended.
Nesat is expected across the Taiwan Strait on Sunday before it further heads for south-eastern China.
NAN reports that meteorologists said no fewer than 360 typhoons hit Taiwan in the past hundred some years, with an annual average hit frequency of three to four times.
The maximum number of occurrences was in 1914,1923,1952 and 2001 with seven hits, and no hits occurred in 1941 and 1964.

Load more