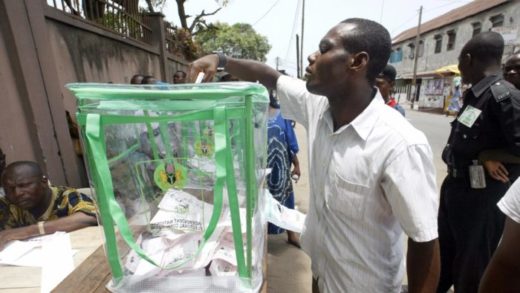 Mr Oseloka Obaze, an aspirant of the Anambra State Governorship election, has called on the people of the state to come out and elect a credible person with the capacity to tackle the challenges of the state.
Obaze, who made the call while speaking with newsmen after obtaining his nomination and expression of interest form at the Peoples Democratic Party (PDP) National Secretariat on Thursday in Abuja, said the people should not boycott the election.
The leader of the Indigenous People of Biafra, IPOB, Nnamdi Kanu, had warned that elections will be boycotted in the South East states, starting with the Anambra State gubernatorial elections.
The elections are scheduled for Nov. 18, if the Federal Government fails to hold a referendum for the realisation of the state of Biafra.
Obaze described the warning from Kanu as unfortunate, saying "it is a negative narrative that needs to be addressed in order not to disenfranchise the people."
He said that the essence of democracy was the opportunity to hold elections every four years for the presidential, governorship, national and state House of Assemblies seats.
"The challenge is that if we say we are not going to have election and people should stay at home and only 1000 people come out to vote on the election date, they will be the ones to elect the governor.
"By law there will be an election and we are law abiding communities.
"What I will advise anyone talking about sitting down at home is to elect those who have the experience to address the challenges in the community.
"Trying to stop the election totally in one state will not solve the problem, assuming you stop it in one state, other states will elect theirs.''
Obaze called for dialogue to address the issue, adding, "I know that INEC will conduct the election and security agencies will deploy their personnel.
"What we don't want is a situation that will lead to loss of lives and property.''
On his chance of winning the party's ticket and the governorship election, Obase said that he considered himself the best candidate for the state governorship.
"There are many aspirants and I am just one. It is up to people to look at the comparative advantage with others and look at my experience as a servant and as a leader.
"There is always a mistake people make that coming into government will make you good, it should be the other way round. You should be good before young come into government.
"I think am the most qualified in terms of my experience, exposure and understanding of policy to lead Anambra state.
"You can also observe that we have not had local government elections in the state.
"My commitment is to conduct local government elections and ensure that the needs of the people at the grassroots are met.''
Load more