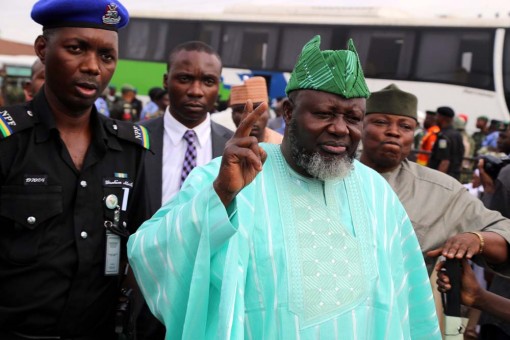 The Minister of Communication, Mr Adebayo Shittu, on Monday said no Nigerian child should graduate from secondary school without knowledge of Information and Communication Technology (ICT).
Adebayo said this at the opening ceremony of the Federal Science and Technical College Yaba Model United Nations maiden conference in Lagos.
The event, which was in conjunction with the United Nation Information Centre, has the theme: Communicating the Future through Information Technology for Senior Secondary Students.
According to the minister, ICT remains a life propeller, the future of businesses and governments.
He said there was therefore the need to make ICT an addition to the training being given to the children.
READ: Edo Govt approves bursary for visually impaired students
"Otherwise, Nigerians may end up having people who brandish only certificates but are hardly equipped for the demands of the job market.
" Coming here today has been an eye opener for me in the versatility of the staff and students, as well as the level of facilities, in terms of the laboratories, equipment, ICT facilities and workshops etc.
"If I have my way, I will use this institution as a standard for all secondary schools in Nigeria.
"Nigeria with a population of 180 million people, most of who are youths, deserves not just theoretical education because there are simply no job places for theories and people who cannot use their hands to work.
"With a population of 180 million, the job places available for all governments, whether Federal or State or Local government, are not up to five million.
"If we have less than five million job places in governments, it means that the bulk is in the hands of the private sector.
"The private sector want to be productive for every kobo they are spending and so, they would want something much more than that and that means that they would need more of skilled personnel ,'' he said.
Shittu explained that if the country continue to produce people who could not use their hands, innovate and create, it would continue to create armies of unemployed graduates in the country.
"So I have gone round, seen their facilities and I am impressed that these facilities exist in a government institution.
"More often than not, you will find a lot of parents preferring that their children and wards attend private schools because facilities are believed to be better there.
"But with what I have seen here, I do not think any private institution can have the sort of resources and equipment and facilities as the type found here.
"So I am impressed and would take my impression to the Federal Executive Council for members to appreciate that in this institution Nigeria has for once gotten it right, it is not enough to be complacent.
"What is here must be replicated in all other unity schools as starting point and then hopefully, state governments would try to take a cue from here,'' he said.
The minister urged the management of the institution to seek means of commercialising the recently inaugurated UNITes CISCO Internet of Things (IoT) centre in order to generate funds for its sustainability.
READ: Expert urges Nigerians to eat food rich in Vitamin D
Shittu said that the centre was an indication that the college truly aimed for the best and so deserved the best.
According him, running education alongside internet connectivity would spur staff and students to go miles ahead of their counterparts.
"I wish to inform you that the Ministry of Communication Technology is ready to partner with this college to ensure that adequate and effective ICT is made available to the college to assist the teeming population of students in this institution,'' he said.
The News Agency of Nigeria (NAN) reports that the minister said that in furtherance of government's effort to equip the youth with ICT skills and promote self employment, his ministry was concluding plans to establish an ICT university in the country.
He said that the university which would be in six locations across the country, would tentatively commence operations in September.
In his speech, the United Nations Secretary General, Mr Antonio Guterres said that the theme chosen for the Model United Nation was pertinent.
Guterres, who spoke through the Director, UN Information Centre Nigeria, Mr Rolland Keyanja noted that the world was living in unprecedented times.
According to him, out of the 7.5 billion people on earth, an estimated two billion were youth between 15 and 25 years of age.
"They need a good competitive education, they need jobs, they need a future to look forward to.
"This is why the UN General Assembly in 2015 adopted Agenda 2030 and the Sustainable Development Goals.
"We now have a set of 17 goals which focus on the social well being of people prosperity of our society and peace in our communities among others.
"This is a very important and ambitious initiative which requires working with a sense of urgency.
"Your focus on technology and innovation is one of those key elements of the Agenda 2030 but we must first of all increase access to information and communication technology for all our citizens to enable them effectively engage in the contemporary economy,'' he said.
The UN Secretary General said that new technologies have transformed the world from tele-medicine to aero space engineering, with visible innovations and changes that have impacted the way people live.
READ: Gov. calls for support for cultural festivals
Earlier, the Principal of the college, Rev. Chris Ugorji said that the conference was technically designed for young people who desired to be leaders of tomorrow.
"Just like the United Nations Organisation, the plan for this conference is to bring together, young delegates representing some United Nations member countries.
"Our goal is grooming tomorrow's leaders to identify and analyse various economic, social and cultural problems of different nations, in order to proffer solutions like peacekeeping and conflict resolution worldwide, collaboration and result oriented skills among others.
"The world is a global village, therefore, the importance of training these young ones to handle world problems through the use of IT cannot be overemphasized,'' Ugorji said.
The principal added that the goal of the institution was to do everything within its limited resources to ensure that it becomes the apex Federal Government College.
He said that the institution also sought to develop a community that would be known for grooming future leaders who would carefully analyse national problems and propose feasible solutions wherever they may find themselves.
"We are optimistic that every other school in Nigeria is working towards these objectives and aspirations as the immediate task we have now is to technologically upgrade our schools following the current trends,'' he said.

Load more