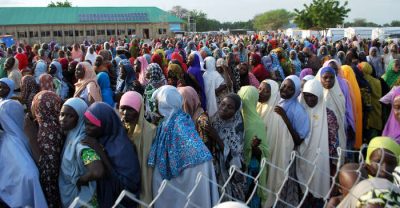 The Economic Community of West African States (ECOWAS) on Tuesday donated 26, 000 bags of assorted food items to Internally Displaced Persons (IDPs) in the North-East.
The ECOWAS President, Marcel De Souza, made the disclosure while presenting the items to Gov. Kashim Shettima in Maiduguri.
De Souza, represented by Madame Florence Iheme, the Director, Humanitarian and Social Affairs at the commission, said the gesture was part of the commission's humanitarian services to the displaced persons in the region.
He said the commission had pledged about one million dollars to support humanitarian assistance in the troubled region.
He listed the items to include maize, sorghum and millet, adding that the gesture was part of the ECOWAS's Food Assistance to the North-East.
De Souza also said that the commission would also supply additional 700 bags of rice for distribution to displaced persons in Adamawa, Borno and Gombe States.
According to him, the commission had also disbursed 400, 000 and 300, 000 dollars to the International Federation of Red Cross (IFRC) and United Nations High Commission of Refugees (UNHCR), respectively.
The president explained that the amount were provided to fast track humanitarian assistance to IDPs in the affected communities in Nigeria, Niger, Chad and Cameroun.
"In December 2016, the President of the ECOWAS Commission visited Borno to assess humanitarian situation, and presented a Cheque of one million U.S. dollars worth of food assistance to the population in the North-East.
"The ECOWAS community is still very concerned about the situation in the North-East with persistent attacks on the defenceless population and consequent loss of lives.
"ECOWAS is in full support of the Government of Nigeria to rid Nigeria of the menace of Boko Haram and it will do all within its framework for humanitarian intervention to assist our population of concern in West Africa," he said.
READ: Dangote reopens Savannah Sugar Company
De Souza commended the Federal Government for the successes recorded in the counter-insurgency campaign as well as the effort to render assistance to the displaced persons.
The president also commended the international community such as the United Nations (UN), international and local development organisations over their support to Nigeria.
Shettima commended the gesture, adding it would go a long way in complementing efforts to support the displaced persons.
The governor, who described the gesture as 'timely,' said that it was done in the spirit of African brotherhood.
He commended the National Emergency Management Agency (NEMA) for ensuring effective distribution of the items.
"NEMA adopted a tracking system on trucks to monitor movement and distribution of relief items to displaced persons," he said.
Shettima added that the state government would collaborate with NEMA to ensure that accredited IDPs received the items.