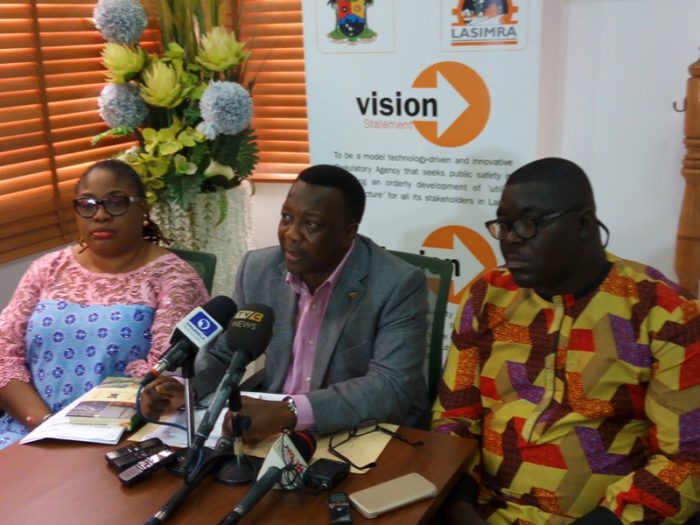 By Kazeem Ugbodaga
The Lagos State Infrastructure Maintenance and Regulatory Agency (LASIMIRA) has declared tolerance on illegal installation and erection of masts and towers across the state even as it decommissioned 95 illegal masts and towers.
The agency warned that any institution or individual caught erecting masts and towers without due approval would be prosecuted.
General Manager, LASIMRA, Babajide Odekunle at a news conference at the weekend in Ikeja, Lagos, Southwest Nigeria, said the agency would soon embark on a statewide regulatory inspection and standards compliance audit of such infrastructure.
Odekunle stated that the exercise was geared towards ensuring orderly development of urban infrastructure in the construction and operation of telecommunications infrastructure deployed by telecommunications, tower operators and mobile network operators in the state.
He added that the audit would identify private utility infrastructure and non-compliant infrastructure for removal, while organisations with non-compliant infrastructure would be given some time to perform the necessary actions to bring their infrastructure into compliance before its removal.
Odekunle also said the audit would lead to removal of all illegally installed networks in public drains; identify installed networks beyond right of way permit and comprehensively built database.
"On removal of abandoned and non-compliant masts and towers, so far, we have started the activity around Ikeja and its environs and about 95 masts, towers have been decommissioned; the Agency has also set up a task force named "Zero Tolerance On Non-Compliant Mast And Towers In Lagos Island" which is saddled with the responsibility of combing the entire length and breadth of Lagos Island to discover substandard as well as illegal or unpermitted masts, towers," he explained.
The LASIMRA boss added that the task force constituted two weeks ago, had been able to identify over 20 masts and towers that either did not meet acceptable standards or were erected illegally without approval, adding that about eight had been decommissioned already with the operation still ongoing in full drive.
"The Agency is also planning to establish zonal offices in Badagry, Epe and Ikorodu in order to strengthen its monitoring and compliance activities.
"Inter-agency cooperation with Lagos State Emergency Management Agency(LASEMA), Lagos State Building Control Agency(LASBCA), Lagos State Safety Commission(LSSC) and Lagos State Parks and Gardens Agency (LASPARK) is already established in order to serve the citizens of the state better.
"The Agency would like to encourage the public to be their brothers' keeper by giving timely and adequate information on any suspected activities around their neighborhood that relates to digging of roads/pathways, erection of mast, towers either on the ground or on the rooftop, laying of cables, pipes etc. Be that whistleblower by contacting us," he stated.
According to him, the administration of Governor Akinwunmi Ambode took very germane the safety of lives and properties of people living in Lagos State.
"Therefore, any institution, individual found to be perpetrating acts that is against the tenets of acceptable guidelines of government agencies, would be prosecuted accordingly," he said.