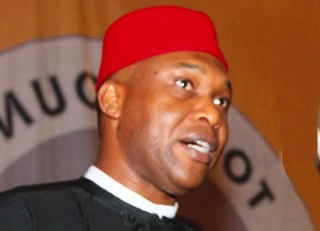 United Peoples Party (UPP) in Awka on Tuesday announced the suspension of some of its leading members in Anambra  for alleged anti-party activities.
Those affected are a former Minister of Aviation, Osita Chidoka, Chief Chudi Ofodile, the National Treasurer of the party, Mr Flint Obiekwe and Chief Nwabueze Anyichie, its Deputy National Secretary.
Chidoka and Ofodile are governorship aspirants in the Ananmbra governorship election scheduled  for Nov. 8.
The Publicity Secretary of the party in the state, Chief Uche Amaku,  said the four were suspended for allegedly indulging in acts  aimed at undermining the authority of the state executive of the party.
Amaku said the party's Disciplinary Committee would decide the fate of the affected persons.
Meanwhile, Dr Sylvester Igwilo, the Chairman of the party in the state, said Chidoka and Ofodile did not show documentary evidence of their resignation from PDP as required by Article 7 paragraph B of UPP Constitution.
He also said both aspirants introduced money politics in the party and induced members to gain advantage.
READ: Anambra polls: APGA picks Obiano as candidate
"They have introduced money politics of inducing members with cash donation which tends to bring the image of the party to ridicule.
"Both aspirants were found to have deposited five  million naira into the account of the party without the consent and approval of state executive committee.
"They had also appeared for a purported screening without the approval and authority of the state executive committee outside the provision in the party's constitution.
''All these tantamount to anti-party activities to undermine the state executive authority of the party," he said.
Igwilo said the two members of the National Executive Committee from Anambra, Obiekwe and Anyichie were suspended for their role in attempts to undermine the leadership of UPP in Anambra.
Reacting to the development, Chidoka told NAN that he was unaware of his suspension as he had not been informed by the party.
The former minister said he had not contravened any provision of the party constitution.
He said he was busy meeting stakeholders and consulting ahead of the party's primary election and how to build a stronger and more resilient UPP in Anambra and Nigeria.
On his part, Ofodile described his suspension as surprising.
He said he would react after he was served by the party.
Also reacting, the National Chairman of UPP, Chief Chekwas Okorie said the development was a handiwork of enemies of party.
Okorie dismissed the development and described it as `inconsequential' as officials and delegates for the party primaries were ready for the exercise slated to hold on Saturday.
Load more