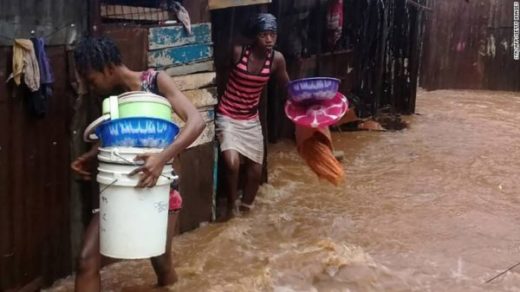 More than 5 million people have been stranded in Bangladesh as monsoon flooding submerged more than one-third of the South Asian country and left at least 82 people dead, officials said on Friday.
Many of the victims drowned while others died of snake bite and electrocution, disaster management official Al Mamun said.
Mamun also said 27 out of 64 administrative districts, accounting for more than 35 per cent of the country's landmass, had been inundated since the rain-triggered flood turned severe last week.
"Numerous homesteads and farmlands in the North and North-East regions have been washed away by the rush of water from rivers in neighbouring India,'' Mamun said.
''The number of flood-hit people is 5.14 million.''
He said more than 650,000 hectares of croplands had been submerged,referring to an initial report by the government's Agriculture Extension Department.
The Relief and Disaster Management Minister Mofazzal Hossain Chowdhury, said that government had distributed adequate quantity of dry food, rice and cash to support the flood victims.
According to the minister, 8,190 tonnes of rice and 300,647 U.S. dollars had been distributed among the affected people as emergency response to the disaster.
Bangladesh's Flood Forecasting and Warning Centre said some central districts around the capital Dhaka might be submerged as water in one of the major rivers was still rising.
''The capital city is out of danger for now, Sarder Udoy Raihan,'' an official at the centre, said.
More than 130 people were killed in June by landslides, triggered by heavy rain in Bangladesh's hilly South-East.