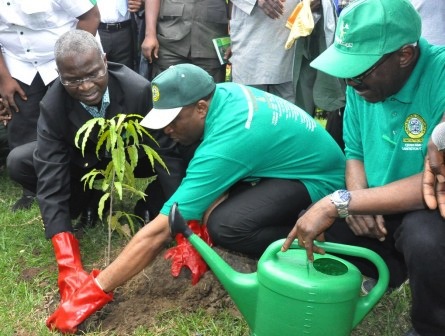 A Former Special Adviser to former president Goodluck Jonathan on Aviation, Ms Ann Ene-Ita, has stressed the importance of tree planting to building peace in communities.
Ene-Ita spoke in Abuja during a tree planting project at the LEA Primary School in Utako, organised by the 2017 King Abdullah Bin Abdulaziz International Centre for Dialogue (KACCID) fellow, in collaboration with the Federal Ministry of Environment.
According to Ene-Ita, planting of trees is a symbol of promoting peace and unity among various tribes and cultures, adding that trees are an important part of every community.
"Our streets, parks, playgrounds and backyards are lined with trees that create a peaceful, aesthetically pleasing environment.
"The planting of trees is a good initiative and there is need to promote love and peaceful co-existence in Nigeria irrespective of tribe or religion," she said.
The ex-presidential aide also advised youths to volunteer to be part of any positive venture for the overall development of the nation, noting that the strength of Nigeria is in the large population of more than 170 million people.
The Assistant Chief Forest Superintendent in the ministry, Mr Kayode Adelusi, said trees contributed to the good of the environment by providing oxygen, improving air quality, climate amelioration, conserving water, preserving soil and supporting wildlife.
READ: ICT varsity: Enugu govt. approves expansion
"Trees control climate by moderating the effect of the sun, which reduce runoff and sediment deposit after storms.
"This helps the ground water supply to recharge, prevents the transport of chemicals into streams and prevents flooding. Fallen leaves make excellent compost that enriches the soil," he explained.
Adelusi assured them of the ministry's commitment to the project and donated assorted 50 seedlings to encourage planting of trees, adding that the ministry had collaborated with the National Youth Service Corps (NYSC) tagged 'Plant a Million trees'.
Earlier, the Vice Principal (Administrative) of the school, Mr Adamu Abdullahi, assured that the students would nurture the trees.
Meanwhile, the KACCID fellow, Miss Stella Francis, said the planting of trees was part of her projects in contributing to the community, just as she advised youths against violence.
KACCID is an inter-governmental organisation promoting inter-religious dialogue to support conflict prevention and resolution, sustainable peace and social cohesion.