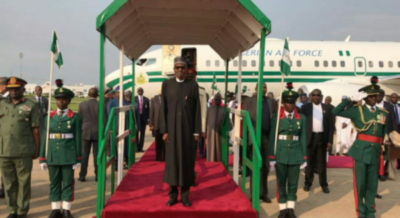 Some Lagos lawmakers have urged President Muhammadu Buhari to intensify efforts in fulfilling other campaign promises following his safe return from medical vacation abroad.
The lawmakers, who spoke in Lagos on Saturday, expressed gratitude to God for the life of the Buhari.
The president had in May travelled to London for medical attention, a development which had sparked pockets of protest especially by a group led by Charlie Boy.
The Chairman, House Committee on Information, Strategy, Publicity and Security, Mr. Tunde Braimoh said: "We thank God for the safe arrival of Mr. President, it portends a very great hope and good omen for the country.
"Now that he is back, a lot of grounds must be covered, we want him to reciprocate the love of Nigerians for him and the confidence reposed in him.
"Many Nigerians were patient, prayerful and also wished him well all along. Efforts should be redoubled to make Nigerians enjoy better life and also feel the impact of his government."
According to Braimoh (APC-Kosofe II), the President remains a lucky man, who is enjoying great love and admiration of the people.
Also speaking, Mr. Segun Olulade, the Chairman, House Committee on Health, commended the President for heeding advice to disengage from governance and travel abroad for medical attention.
Olulade, representing Epe Constituency II, also urged the President to work hard to fulfill all his campaign promises.
"He has done what is needful by treating himself. This is a welcome development. We expect to see more of his campaign promises being fulfilled."
He said many Nigerians believed so much in the President's ability to alleviate their sufferings, pointing out that the hope of such people should not be dashed.
Mr Setonji David, the Chairman, House Committee on Physical Planning and Urban Development, also said:"We thank Almighty God for bringing our President back to the country alive. This is a cheering news. We want Mr President to bounce back for the masses."
Buhari left Nigeria on May 7 for the second round of his medical treatment in London after receiving 82 rescued Chibok School girls, who were abducted by the Boko Haram terror group since 2014 under the ex-President Goodluck Jonathan's administration.
Buhari, who arrived at 4:35 p.m., is expected to address the nation on Monday.