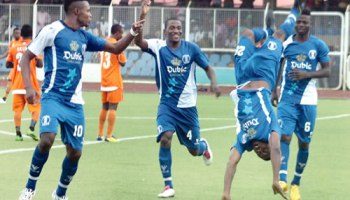 Coach Edith Agoye of Shooting Stars Sports Club (3SC), says the team gave all it had to beat Nassarawa United Football Club 2-0 in Ibadan on Sunday.
3SC secured the two goals through Osawe Alaba and Abayomi Adebayo in the 59th and 63rd minutes in the Nigeria Professional Football League (NPFL) Match day 35.
3SC had lost several chances in the first half of the game, which could have put more pressure on the visitors, but the Oluyole warriors pushed on in the second half to gain the maximum three points.
The team is now placed in 17th position on the log with its next match coming up against El-Kanemi Warriors in Maiduguri.
"We have a little bit of pressure because of our position on the log.
"Also to be considered is the team we are playing. A team like Nassarawa United which has physical presence in the air and on ground.
"A well organised team and tactically sound. You will believe me that it is a team that we have to play with caution,'' he said.
Agoye noted that his players lost several chances in the first half which added to the pressure on them to win.
"Our Technical Adviser told the players during the break to be calm with the game and not get themselves tensed up.
"We are not doing badly but need to put a bit of pressure and convert the chances,'' he said.
Coach Kabiru Dogo of Nassarawa United FC congratulated 3SC on the victory and praised his boys for playing well despite losing the match.
"We did not lose concentration, we were calm and we have accepted our fate. This is because the result has been known from the beginning of the game.
"You know, when you prepare for a war and the result has been determined, you have to turn it into a training so you can prepare for your next home match,'' he said.
Dogo added: "The issue on ground now is not all about the continental ticket, sometimes if the actors can change their attitude, we will have a free mind that we can get good result when we go there.
"But the way things are going, whatever we get, we will take it in good faith. If we get to the continent fine and if not we will try and maintain our position."