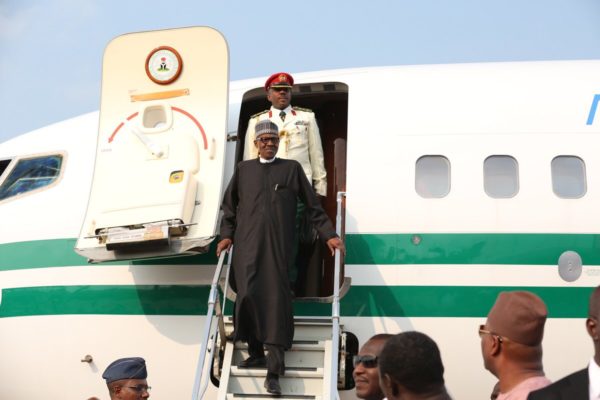 Some Nigerian pilgrims in Saudi Arabia have expressed happiness over the safe return of President Muhammadu Buhari to Nigeria after a three-month medical vacation in London.
The pilgrims expressed their joy in interviews with a Correspondent of the News Agency of Nigeria(NAN) on Sunday in Madina, Saudi Arabia.
Alhaji Isa Mohammed, a pilgrim from Nasarawa State, said that the Almighty Allah had answered his prayers on Buhari who was away for over 100 days.
He said that the safe return of Buhari had shown that it was only Allah that possessed absolute control over life and death, adding that it was normal for every human being to fall sick.
Another pilgrim from Zamfara, Gwamma Abu, said it was a thing of joy for all patriotic Nigerians for the President to return alive in spite of all the insinuations about his health.
According to her, Buhari's recovery has shown that it is only Almighty Allah who grants man good health whenever He decides.
" Buhari's return has shown that Allah loves Nigeria, it is only agent of division and corrupt elements that will not be happy that the president is back.
" For myself and other Nigerian pilgrims here in Medina, we'll continue to pray for our president and call on those who wished him (Buhari) bad to have a rethink. "
Imam Ismael Kamaru, a pilgrim from Osun, who prayed for good health for Buhari, advised him to put the economy back on track, adding that was the only Sallah gift that Nigerians expected from the him.
"As you can see, we are holding special prayer session for him and glorifying Allah for his safe return.
"However, we appeal to the president to put the economy back on track so that Nigerians can enjoy the dividends of democracy.
"We believe that Almighty Allah, who answered our prayers on him, will help him to pilot the affairs of our great country to greater heights," Kamaru said.
President Buhari had left the country in May after handing over power to the Vice President, Prof. Yemi Osinbajo, who functioned as Acting President since then.
Buhari is expected to speak to Nigerians in a broadcast by 7a.m. on Monday.
He was said to have thanked all Nigerians who prayed ceaselessly for his recovery and well-being since the beginning of the health challenge.