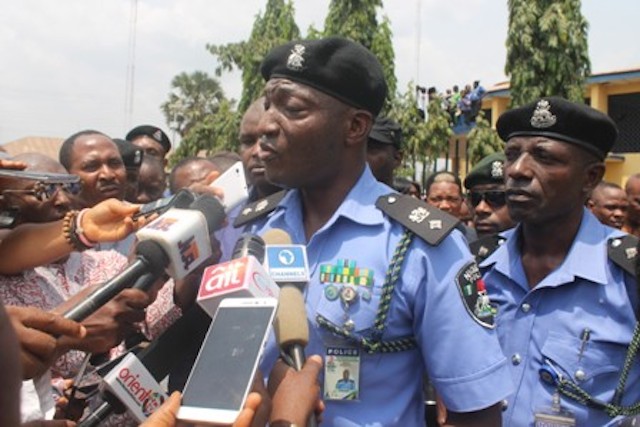 The Nigeria Police Force said it had arrested 26 suspects for kidnapping, armed robbery, rape and unlawful possession of prohibited fire arms in Lambata area of Niger.
The Force Spokesman, CSP Jimoh Moshood, disclosed this while addressing journalists in Abuja on Tuesday on the arrest.
He named the suspects as Isa Umar, Nuhu Yahaya, Sanda Saleh, Ali Ali, Okechukwu Atama, Mohammed Aliyu, Haruna Adamu, Adamu Bello, Abubakar Iliyasu, Safiyu Mohammed among others.
Moshood said that the suspects, who operated at different areas were arrested between August 8 and 22 in Niger.
He said that items recovered from them include: Four Ak 47 rifles, cutlasses, cell phones, wrist watches, Military camouflage and personal effects of their victims.
Moshood said that investigations were on to identify the source of the military uniforms.
The spokesman said some of the suspects also specialised in raping their victims.
He said the suspects had made confessional statements to the police on the various roles each of them played in the crime.
Moshood said that the arrest followed clean-up operations by the "Operation Absolute Sanity" in Niger, Kaduna, Benue and Kogi.
"The operation is going to be sustained and the war against crime will be extended to every parts of the country," he said.
Moshood said that the Inspector-General of Police, Mr Ibrahim Idris, commended members of the community for their support.
Contributing, Alhaji Muhammad Usman, Village Head of Lambata, assured that members of his community would cooperate with the police to fight crime in the area.
He said that members of the community were ready to give police all the necessary and useful information to ensure the provision of security of life and property.
The Force, on July 25 commenced 'Operation Absolute Sanity on Abuja-Kaduna Highway.
The team include: Police Mobile Force, Counter Terrorism Squad, Anti-Kidnapping Unit, Intelligent Response Team, Special Tactical Squad, Force Intelligence Branch and Police Helicopters.
The operations are to complement and augment the on-going Joint Police/Military operations on ground before now.
On July 31 and Aug. 3, the police also arrested 31 and 40 suspects at Katari and Rijana area respectively along the Kaduna-Abuja road.