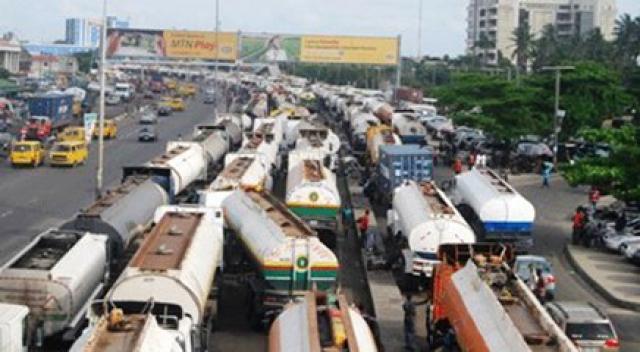 The Lagos State Traffic Management Authority (LASTMA) on Wednesday, said it had established "Operation Keep Traffic
Moving ,'' to ease gridlocks in Apapa and other parts of the Lagos metropolis.
Mr Chris Olakpe, the LASTMA Chief Executive Officer (CEO) said the authority had been working assiduously to reduce gridlocks in Apapa and its environs.
"LASTMA has been assisting in the movement of traffic in Apapa by trying to streamline traffic; it has been doing its best to reduce the gridlocks being experienced in the area.
"There is an irregular influx of tanker and articulated vehicle drivers nationwide into Lagos, that is what we expect at this period, but our men are up to the task, they have been given the go ahead to do their best to ensure that traffic is moving on all corridors in the state.
"That is what we call operation keep traffic moving,'' he said.
According to him, government is doing its best to reduce the gridlocks by fixing the roads within and outside Apapa.
Olakpe said that efforts had been put in place by the government to reduce the traffic in Lagos by rehabilitating and constructing various roads across the state.
"Don't forget that government is at the top of ensuring that the bad roads in Apapa and other parts of Lagos are fixed.
"You know, when you have bad roads, it a big challenge, but government is on top of it now and they are fixing the roads steadily. In a matter of time, the gridlocks will be a thing of the past,'' he said.
NAN reports that gridlocks returned to Apapa/Wharf Roads in Lagos due to loading by petroleum tanker drivers at private depots in the area, as well as articulated vehicles moving containers from the ports.
Alhaji Tokunbo Korodo, the South-West Chairman of the Nigeria Union of Petroleum and Natural Gas Workers (NUPENG) had said the gridlocks were caused by petroleum tankers loading in the area.
Korodo said that the loading was low at the NNPC depots and that the tanker drivers were not getting adequate petroleum products, so they have returned to their base in Apapa and Coconut Road.
According to the chairman, NNPC depots in the South-West are located at Ejigbo, Mosinmi and Ibadan, but they only operate skeletal loading.
NAN reports that the depots on Apapa/Wharf roads include MRS Oil and Gas, Nipco Oil and Gas, Ateo Oil Ltd., Techno Oil and Gas, Mobil Oil and Gas and Folawiyo Oil and Gas.
Others are: Oando Oil and Gas, and Con oil Oil and Gas.
Depots on Coconut/Apapa Road axis include Capital Oil and Gas, Sahara Oil and Gas, Integrated Oil and Gas, Eternal Oil and Gas, and Total Oil and Gas.
Some others are Acorn Oil and Gas, Obat Oil Petroleum, Aquitaine Oil Ltd, and Spog Oil Nig. Ltd.