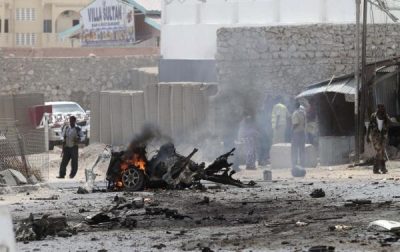 Officials say a suicide bomber detonated himself at the gate of a Shi'ite Muslim mosque in the Afghan capital as other attackers stormed the building, killing at least 14 people as worshippers gathered for Friday prayers.
There was no immediate claim of responsibility, but Islamic State militants have attacked minority Shi'ite targets in Afghanistan in the past.
An official at the Ministry of Interior said there were at least 14 civilian casualties, while at least two policemen had been killed and eight wounded.
At least two bodies and 15 wounded people had been brought to city hospitals, with ambulances retrieving more casualties at the scene, said Ismail Kawosi, a spokesman for the Ministry of Public Health.
Some witnesses at the scene said the attackers threw grenades, while police officials said a suicide bomber detonated himself at the gate.
One witness said an attacker wearing a vest packed with explosives shot and killed the guards at the gate.
"At first a suicide bomber opened fire and martyred two security guards at the entrance of the mosque and then they entered inside," Sayed Pacha told Reuters.
"Some people escaped out of the mosque including women, but there were four attackers who managed to enter the mosque."
Later explosions rocked the area, but their source was unclear.