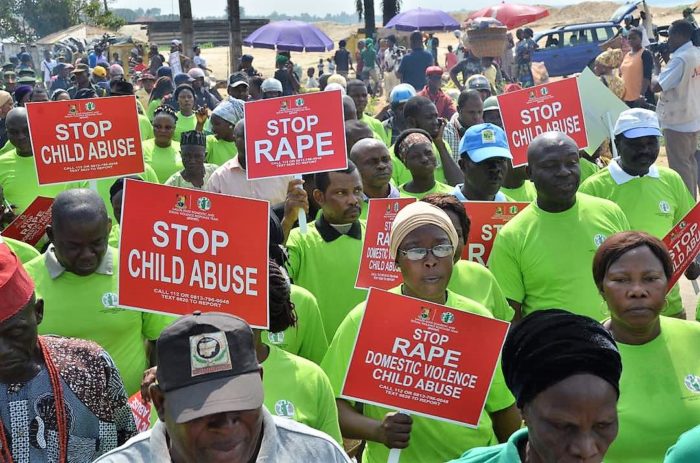 To raise awareness and sensitize residents on the dangers of domestic and gender-based violence, child abuse, rape, the Lagos State Domestic and Sexual Violence Response Team (DSVRT), has taken the campaign against domestic and gender-based violence to the grassroot with an awareness walk held at the Epe Local Government Area of the state.
The team lead, Dr Keziah Awosika gave talks during the walk, educating the people of Epe on the Lagos State Government 's zero- tolerance policy for sexual and gender -based violence.
Awosika urged the paramount ruler of Epe Kingdom, Oba Shefiu Olatunji Adewale to warn parents to desist from sending children out to hawk for them especially during school hours as this act is tantamount to child abuse and it is punishable under Lagos State Law.
In his response, the traditional ruler promised to set up a Task Force that will rid Epe community of the menace. He also assured the Lagos State Domestic and Sexual Violence Response Team (DSVRT) of his continued support and coorporation in the fight against Child Abuse.
The Chairman of Epe Local Government, Mr. Adesanya Adedoyin, who also participated in the walk commended the State Government for the awareness and promised to implement the agenda of the present administration on domestic abuse and gender violence at the local level.
The walk had two paramount rulers of Epe, Oba Shefiu Olatunji Adewale (the Olu of Epe )and Oba Kamoru Ishola Animashaun (The Oloja of Epe) participating and attracted over 300 participants from all walks of life; artisans, teachers, market women, religious bodies,NYSC , NGOs , NURTW officials, community health workers and members of the Nigerian Bar Association.
The Walk took off from Oba Adewale's palace on Lagos Road to Marina road down to the Round-about and up to Ayetoro market with the traditional ruler participating. Another traditional ruler, Oba Ishola Animashaun joined the walk, leading from the market to Cele Bus- Stop to his palace.
While admoonishing participants and residents after the Walk, the coordinator of the the Lagos State Domestic and Sexual Violence Response Team (DSVRT), Mrs Titilola Vivour-Adeniyi said the State Government will not rest until incidents of sexual and gender based violence are brought to zero.
"We will not rest until we eradicate sexual and gender based violence in Lagos State. We therefore enjoin all members of the community to see themselves as mandated reporters. If you see something, say it", Vivour-Adeniyi said.
Communication materials to inform the people of their rights and the provisions under the law on violence and where to get help in the event of an incident were distributed at the event.