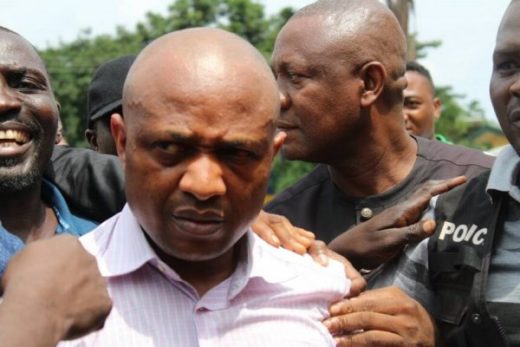 Akin Kuponiyi
Judgement in the fundamental rights enforcement suit filed by the suspected billionaire kidnapper, Chukwudumeme Onwuamadike a.k.a. Evans, challenging his continued detention since June 10, 2017, at a Federal High Court in Lagos was on Tuesday stalled due to an application filed by the Inspector General of Police (IGP), Ibrahim Idris, to stay the ruling of the court.
During Tuesday's proceedings, lawyer representing the IGP and the Nigeria Police Force (NPF), David Igbodo, while drawing the court's attention to the application filed before the court said that the IGP and the Nigeria Police deserved to be heard before any judgement could be delivered in the matter.
According to him, one of the reasons for bringing the application was to urge the court to nullify the appearance and submissions of one, Henry Obiazi, who appeared for both the IGP and NPF on August 16 when the matter was fixed for judgement.
He told the court that the lawyer was not authorized by either the IGP or the NPF to represent them in court.
Consequently, he urged the court to set aside the ruling delivered at the last hearing when the matter was fixed for judgement without hearing the IGP and the NPF.
While urging the court to allow him argue the application, Igbodo said other respondents in the matter have been served but that Evans' lawyer rejected the service.
In his response, Evans' lawyer, Olukoya Ogungbeje, expressed his opposition to the hearing of the application, saying it was intended to arrest the court's judgement.
He also faulted claims by Igbodo that he evaded the service of the application on him.
According to him, there was nothing before the court again after parties had canvased arguments and a date for judgement has been fixed.
Ogungbeje's opposition was however overruled by the presiding judge, Abdulazeez Anka on the ground that there was proof that he actually evaded service.
Thereafter, Justice Anka adjourned the case till September 5, 2017 for hearing of the application.