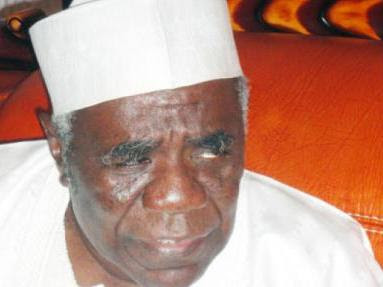 Famous Katsina politician Senator Mahmud Kanti Bello has died in Abuja at the age of 72.
Bello, a two-time senator, died early Tuesday at a hospital in Abuja after a brief illness. He was buried in Abuja according to Islamic rites.
The Senator graduated from faculty of Engineering at the Ahmadu Bello University, Zaria.
He is survived by a wife, several children and many grandchildren.
Among his children is the Katsina State Commissioner for Resource Development, Alhaji Mustafa Kanti Bello.
The former senator was a chieftain of the ruling All Progressives Congress (APC) and declared interest several times to be the governor of Katsina State under different political parties including SDP, ANPP, and APC. He once dumped the ANPP for the PDP before joining the CPC.
The former General Manager/Director of Katsina Steel Rolling Company contested and won the seat as senator under the platform of ANPP in 2003, but later dumped the party for the Peoples Democratic Party (PDP).
After he completed his first tenure of four years as a Senator, Kanti Bello re-contested for the same public office in the last election, but was defeated by Senator Abubakar Saddiq Yar'adua of the CPC.
He later defected to the CPC, where he explained that "I have returned to the CPC with the intent of cleaning up the dirty work of the PDP. We have only two strong opposition political parties in the country. These are CPC and ACN. While the former dominated the north, the latter is predominantly Yorubas' party."
Mourners throng Katsina residence
Sympathisers besieged Katsina the GRA residence of the former senator to condole with his family yesterday.
Most of the visitors came in anticipation of the early announcement on radio that the burial would hold at the residence, but it was changed to Abuja where he died.
Those that came were mostly from his home town of Ingawa.
A family member Sadauki Bello said there was a quick change of plans where the funeral prayer was agreed to be done in Abuja.
He said several associates and politicians have been coming to make enquiries but that from today, all family members would relocate to Katsina to start receiving dignitaries.
Buhari, others mourn
Meanwhile, President Muhammadu Buhari Buhari has condoled with the Kanti-Bello family as well as the government and people of Katsina State on the death of senator.
Presidential spokesman, Mr Femi Adesina, in a statement, said Buhari also commiserated with the Senate over the passage of their distinguished colleague and former Senate Chief Whip, who served two-terms in the upper legislative chamber.
President Buhari urged the family, friends and associates to honour his memory by continually upholding the values of honesty and accountability, which served as his reference point throughout his public service.
Adesina said the president prayed that Almighty Allah comfort all who mourn him and grant his soul eternal rest.
Senate President Abubakar Bukola Saraki, in a statement by his Special Adviser on Media and Publicity, Yusuph Olaniyonu, described late Bello as an outspoken and courageous legislator, who was always guided by national interest and that of his community in discharging his legislative responsibilities.
Also, Senator David Mark described Kanti Bello as a pragmatic, courageous and fearless parliamentarian who would be sorely missed.
In a statement by his media aide, Paul Mumeh, Mark noted that the late lawmaker's exit has created a vacuum in the contemporary politics of Nigeria.
"Bello was a vibrant and fearless parliamentarian who identified with the ordinary people in the society. He dislikes and abhors oppression. He believes in the rule of law and justice for all," he said.
The Deputy President of the Senate, Ike Ekweremadu, expressed sadness over the death of Kanti Bello, describing it as a heavy loss to the entire nation.
Ekweremadu, who served with the late Senator in the fifth and sixth Senate, said the Katsina-born Senator was a "cosmopolitan and highly detribalised Nigerian, who worked tirelessly to help solve Nigeria's leadership challenges".
"Distinguished Senator Kanti Bello was an elder brother, neighbour, and a patriot in all ramifications. He was a politician, who commanded the respect of the high and mighty and the masses because of his integrity, patriotic zeal, astuteness, and development-driven kind of politics.
"He was a fearless politician, who never minced words in speaking his mind and the truth. And he was certainly a political machine whose reach stretched to every corner of the nation. He understood the nation's political terrain like the back of his hand," he said in a statement by his spokesman Uche Anichukwu.
The Speaker of the House of Representatives, Yakubu Dogara, in a statement by his spokesman Turaki Hassan, the speaker said: "Alhaji Kanti Bello was a grassroots politician who served the country meritoriously in many capacities including that of distinguished Senator of the Federal Republic of Nigeria. He left behind a legacy of patriotism and service."
Katsina State governor Aminu Masari described Kanti Bello as a highly patriotic Nigerian who was very passionate about Nigeria and Katsina State to such a degree that he was always ready to offer his services in whatever capacity.
Masari in a statement by his media aide Abdu Labaran said "Bello's death at this challenging time has surely robbed the nation of one of its vibrant political voices''.
According to him, "The death of Engineer Kanti, as he was fondly referred, is a big loss not only to his family or Katsina State but to Nigeria as a whole in view of his tremendous contribution, both as a renowned engineer and a sound politician, to the development of Nigeria."
Former Vice President Atiku Abubakar, in a condolence message released by his media office in Abuja yesterday, said the death of Senator Bello from Katsina State was a great loss to Nigeria's democratic struggle.
The Waziri Adamawa, who said he received Bello's demise with shock, added that the role the deceased played in bringing democracy into being cannot be forgotten in hurry.
Daily Trust