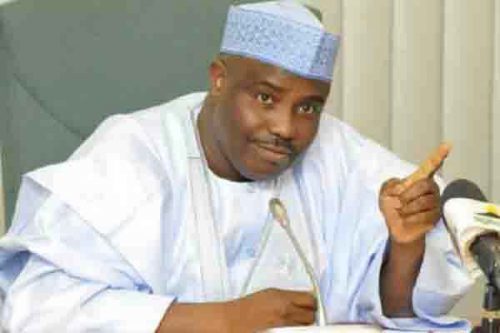 Gov. Aminu Tambuwal of Sokoto State, on Thursday called on the Federal Government to establish an inland dry port and extend its railway line project to the state to enhance commerce.
Tambuwal made the call at the closing ceremony of the 15th meeting of the National Council on Transportation (NCT) in Sokoto.
He described effective transportation system as critical to the growth of the economy of any nation, adding that the state needed such infrastructure for movement of people and agro-allied products.
He said the establishment of a dry port in Illela Local Government Area of the state would facilitate economic activities and reduce the hardship faced by businessmen.
The governor said Illela was close to Niger Republic and had many commercial activities going on there, capable of increasing investments in the state.
He urged transportation stakeholders to ensure the formulation of the right policies that would ensure easy movement of people and goods to enhance the life of the citizenry.
"Considering the importance of the transportation sector to human lives, the state government resolved to host the council meeting as part of its contribution to facilitate more economic development.
"I urge the participants to vigorously pursue the actualisation of the resolutions as the sector offers more economic advantages to people at all levels,'' Tambuwal said.
READ: Shittu explains how he succeeded as Oyo LG boss
According to him, such effective dialogue would facilitate formulation of policies that will have direct bearing on Nigerians.
The Sultan of Sokoto, Alhaji Sa'ad Abubakar, described the meeting as desirable because of the importance of transportation to people's lives and commercial activities.
Abubakar called on the federal government to establish a special fund for road construction and repairs as well as a body that would ensure that state governments handled projects well.
Also speaking, the Chairman of the Senate Committee on Land Transport, Olugbenga Ashafa, said the National Assembly remained committed to ensuring passage of bills relevant to transportation.
He said such bills would facilitate viable economic activities and competitiveness in the sector.
In his address, the Minister of Transportation, Mr Rotimi Amaechi, said the present administration was committed to developing intermodal transportation system in the country.
He said this would reduce the cost of transportation and influx of people and trucks to port cities.
"This meeting afforded us the opportunity to periodically share experiences, prioritise and synergise efforts of the federal government toward greater achievements," Amaechi said.
The Minister of State on Aviation, Sen. Hadi Sirika, said that the aviation industry contributed immensely to the economic development of the country, being the fastest means of transportation.
"Nigeria with a population of about 180 million has 27 functional airports, several privately owned airstrips and helipads," he said.
Sirika , represented by Sabiu Zakari, the Permanent Secretary of the ministry, said President Muhammadu Buhari had approved a robust roadmap for the aviation sector to address the infrastructural challenges.

Load more