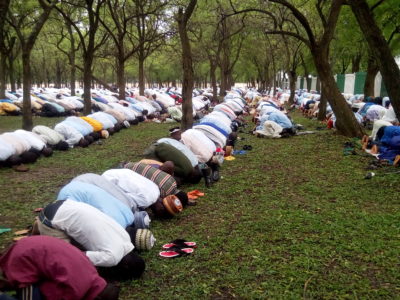 The Chief Imam of the Epe Central Mosque, Alhaji Abiola Sadallah, on Friday appealed to Muslims in particular and Nigerians in general to imbibe the value of peaceful co-existence and pray for continued peace in the nation.
Sadallah made the appeal in his Eid-el-Kabir sermon at Epe, Lagos State.
He noted that the promotion of peace among the diverse ethnic and religious groups in the country was critical to national development.
Sadallah, therefore, urged all Nigerians to use the opportunity of this year's festive season to demonstrate the essence of unity among the various ethnic groups in the country.
According to him, since Islam preaches the message of peace and tolerance, every Nigerian should begin to embrace brotherly love and harmonious co-existence.
He urged the Muslim faithful to pray for continued peace in their various neighbourhoods and the nation at large.
"I call on all Muslims to shun religious extremism because it is becoming a challenge to our national development.
"Those who hide under the veil of religion to perpetrate religious crisis are being ignorant of the teachings of Islam as nobody can fight for God.
"You cannot fight to protect an authority to who we owe our very existence or on behalf of one who is greater than the sum total of us.
"As we celebrate this auspicious occasion, therefore, let us renew our faith in our nation and implore the Almighty Allah to restore to us those values that place high premium on human life.
"Love of neighbour and sharing, even as we ventilate our faith in the unity of our dear country, and the possibility of her taking her proper place in the comity of nations," the Chief Imam said.
Mr Olawale Mogaji, Chairman, Lagos State House of Assembly Commission (LAHA), also reiterated that promotion of peace among various ethnic and religious groups in the country was essential to national development, in an interview with newsmen.
Mogaji, who is also the Otun Sarumi of Epeland, said that leaders, as well as followers, both had a common task in building a strong and virile nation.
The chairman LAHA quoting from the Qur'an, Chapter 2, Verse 45, which says 'Nay, seek Allah's help with patience, perseverance and prayers,
urged all political and religious leaders across the nation to use the festive period to supplicate to God for peace, progress and love, among the people.
Former speaker of the Lagos State House of Assembly, Mr Adeyemi Ikuforoji, the Commissioner for Physical Planning and Urban Development, Mr Abiola Anifowose, and Adedoyin Adesanya, Chairman, Epe Local government were in attendance.