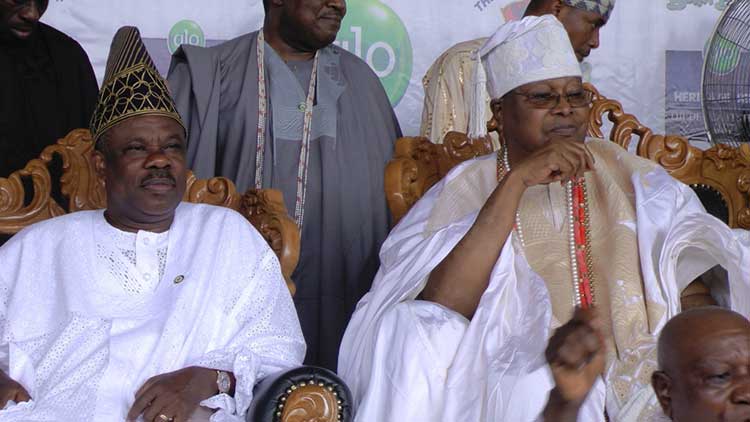 Oba Sikiru Adetona, the Awujale and paramount ruler of Ijebuland, has expressed his happiness for the grace in participating in this year's edition of the Ojude-Oba celebration.
Adetona, who showed much vigour at the event, thanked the people for their prayers and support while delivering his speech on Sunday at the festival in Ijebu-Ode, Ogun.
The monarch extolled the grandeur of the event which he said had continually put Ijebuland in the limelight of tourism.
"I want to thank the people who have contributed to the success of this programme which has been made possible by their support and benevolence.
"I am happy that the Almighty God in His blessings and grace gave me the strength to witness this day with you all despite the rumours about my health and life.
"What we are doing today, it is God who made it possible and I will also appreciate the state government, Globacom and others for the success of this event.
"This festival has been around for centuries, being unique in its organisation, which makes it difficult to be emulated elsewhere," Adetona said.
Governor Ibikunle Amosun of Ogun, on his part, congratulated the monarch for witnessing another Ojude-Oba event, a programme he said had surpassed others of its kind in splendour.
"I congratulate all of us here who have been able to see this event once more and above all I thank God Almighty for preserving our Kabiyesi's life.
"From his speech, we can all see there is no need for us to fear or be anxious for him. He displayed much dexterity by his presence here.
"I congratulate the Awujale and the entire people of Ijebuland," he said.
Otunba Subomi Balogun, the Otunba Tunwashe of Ijebu and founder of First City Monument Group, said the event meant a lot to the people.
"It gives the opportunity for us to pay tribute to the Ijebu throne and forefathers and to thank God for what he had done in bringing prosperity to Ijebuland.
"We have many reasons to be particularly grateful for this year's event as we are all glad that the kabiyesi is with us despite all the frivolous stories around.
"It gladdens the heart of all Ijebus. The Ojude-Oba is a festival that has surpassed anything like it all over the world," Balogun said.
In his goodwill message, the Ojude-Oba Chief Guest of Honour, Dr Sulaiman Adegunwa, thanked the people for always coming out to extol the king.
Adegunwa, a renowned businessman and former chairman of Sterling Bank PLC, said the Ojude-Oba had cemented its place as the envy of other cultural festivities.
The Ojude Oba festival, celebrated annually in Ijebu-Ode, is held on the third day after the Eid-el-Kabir.
It is a festival used to promote the cultural diversity of Ijebu people who use the occasion to honour their king.