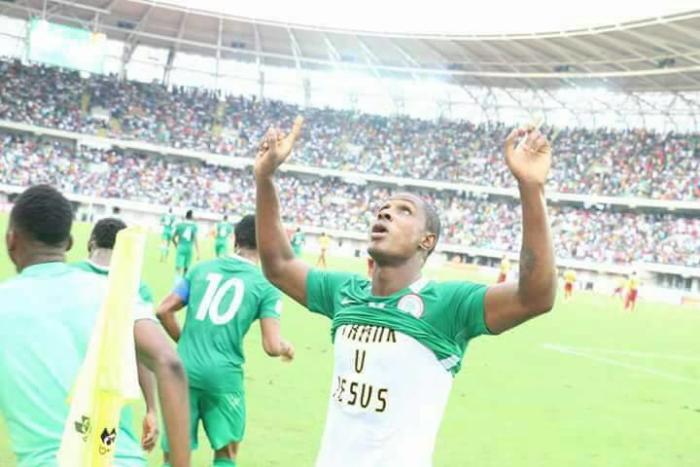 By Essien Ndueso
Odion Ighalo knows that for several matches he has not scored for the Super Eagles, and was only returning to the side after months of frustration in the wilderness. This guy knows that in Akwa Ibom, God is revered and that Akwa Ibom people prayed and fasted for this victory to come. On scoring the first goal, he showed appreciation to the King of kings. The inscription on his inner wear which he displayed before the cameras, was "Thank You Jesus." Now what did he get in return, a yellow card from Egyptian referee Gehad Grisha.
So many Nigerians are still amazed on the yellow card to someone whose only offence is to say 'Thank You Jesus,' majority of Akwa Ibom people can liken the yellow card from this Pharoah's descendant, with the spurious barrage of attacks by paid arm chair critics whose sole responsibility is to attack Governor Udom's policies and programmes. Last weekend witnessed coordinated media attacks from these folks, confirmed recently to be on the pay list of a 2019 governorship aspirant who sits on top a regional intervention agency in the state. For a state named after God, it is most absurd that hirelings could come out and rant their ignorance on public space, to query the rationale behind the state prayer and fasting programme declared by Governor Emmanuel on a day Nigeria had crucial football encounter.
These same people wrote and criticise the hosting of the match in Uyo and how the governor was wasting public funds in hosting the match. They even argued further that the stadium is cursed because it is named after Godswill Akpabio, the former governor of the state who had built the stadium in few years ago. One of them, a supposed lawyer, went on air to rant that a stadium in Lagos and Abuja were enough for Nigeria and that there was no economic benefit in another stadium in Uyo. Ironically this same person went haywire earlier to condemn the development of Akwa Ibom state government properties in Lagos.
During the prayer session two hours before the match, Governor Emmanuel had placed emphasis on the theme, Arise and Shine for thy Light is Come, taken from Isaiah 60.1. He said from biblical analogy, the age of 30 brought with it fulfilment of God's purposes in the lives of many people. Mr Emmanuel made references to Jesus who started his official ministry of saving mankind at the age of 30, and Joseph who was made a ruler in Egypt , and David who became King over Isreal, all at the age of 30, and maintained that at 30, Akwa Ibom was ready to be the light igniting the rest of the country. He said the essence of the prayers was to come together as a people and appeal to God to release His Glory upon the land in line with biblical precedence.
During the times of the aforementioned, it was not on a platter that the glory days were realised. In Joseph's case, even after being betrayed and sold into slavery by his siblings, he was blackmailed and thrust into jail through the instrumentation of Potiphar's wife. In the case of David, he was practically chased out of his homeland until he found succour in the land of the Philistines, his people's perpetual enemies. David who saved Isreal from shame by killing Goliath, was hounded out of his country to the land of his enemies. But then, as the Bible also says, when a man's way is pleasing unto God, he makes even his enemies to be at peace with him. It was from being a fugitive that David came to be a king. The case of mankind's saviour Jesus is more soothing. As a baby, He had to be exiled in the land of Egypt, as his entire peers were wiped out by King Herod's men in one of the earliest cases of genocide in human history.
At the state prayer meeting on September 1, the Governor had emphasized the significance of thirty in God's calendar explaining that the new age will bring about remarkable progress in the state. According to him, "the impact of 30 years will be the impact that would shape positive attitude to enable us to deploy our potentials. There is a new beginning and something is about to happen. It is not by accident that we are at this point at this time in the life of this state."
Just like the triumph of good over evil in recorded history, Mr Emmanuel is confident that those sponsoring media attacks against his government have been shamed, as God will not fail to answer the prayers of His chosen people by making the state a bright star that will shine for the rest of the country. "let me tell us something here, with what we have done today, there is a no more room for negative impact in Akwa Ibom State." This does not mean there will be no more negativity against his administration, it rather means that the negativity will not have any meaningful effect on his God-ordained ambition.
Currently playing for Changchun Yatai F.C.in the Chinese elite division, Ighalo, 28, is best known for the right reasons.As cited in https://en.m.wikipedia.org/wiki/Odion_Ighalo, "Ighalo is known to be a devout Christian who also often dedicates part of his wages for Nigerian charitable organisations to help impoverished children, schools and widows below the poverty line." The yellow card by the referee on Odiong Ighalo, clearly means there is no end to persecution. It may not be out of place to reason that the various petitions and slanted articles against the prayers, and against the hosting of the match by the State Government, means that there still exist King Herods, King Sauls and Potiphars in the state. As an acid test, the match against Cameroon at the Godswill Akpabio International Stadium was an indication that God has answered the prayers of His faithful people in Akwa Ibom led by his son Deacon Udom Emmanuel.⁠⁠⁠⁠