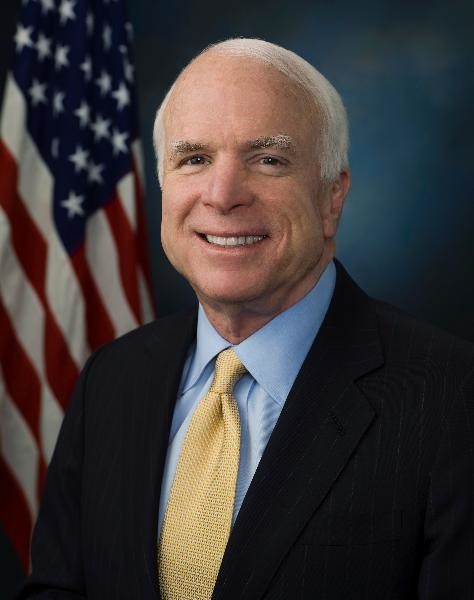 Republican Sens. John McCain and Jeff Flake were among the first lawmakers to announce their opposition Tuesday to the Trump administration's decision to end the Deferred Action for Childhood Arrivals program, a decision that divides GOP members of Congress.
"President Trump's decision to eliminate DACA is the wrong approach to immigration policy at a time when both sides of the aisle need to come together to reform our broken immigration system and secure the border," McCain said in a statement. "I strongly believe that children who were illegally brought into this country through no fault of their own should not be forced to return to a country they do not know."
McCain also said in the statement he plans to work with other lawmakers to pass legislation on immigration reform.
"I will be working with my colleagues on both sides of the aisle to devise and pass comprehensive immigration reform, which will include the DREAM Act," he said.
Flake, whom President Donald Trump has publicly feuded with recently, said in a tweet thread that it's now up to lawmakers to save "innocent kids counting on Congress to do its job."
"It should be evident from the fear and confusion surrounding #DACA that executive actions have a short-shelf life and are a poor substitute for permanent, bipartisan legislation to fix our broken immigration system," he wrote in a set of tweets. "The ball is back in Congress' court where it belongs, and there are a lot of innocent kids counting on Congress to do its job."
Attorney General Jeff Sessions announced Tuesday the Trump administration is ending DACA, which is a program that had protected nearly 800,000 young undocumented immigrants brought to the US as children from deportation.
The Department of Homeland Security will stop processing any new applications for the program as of Tuesday and has formally rescinded the Obama administration policy, Deferred Action for Childhood Arrivals.
GOP Rep. Cathy McMorris Rodgers also agreed that Congress needs to work toward a permanent solution for the DACA recipients.
"I've long said I didn't agree with the way the previous administration went about enacting DACA, but we must protect children who are already here in this country and those who are currently protected under DACA," she said in a statement. "That principle is fundamental for me. It's also clear that we must work in Congress to provide long-term certainty for DACA recipients."