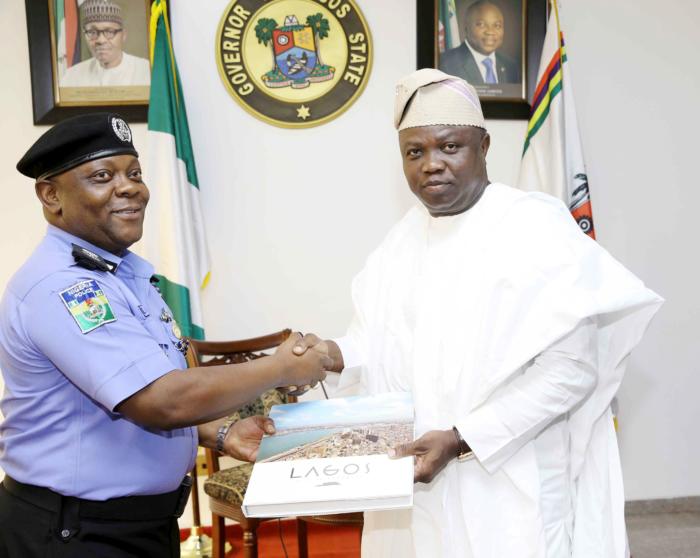 …Safe City will attract investment – Ambode
By Kazeem Ugbodaga
New Lagos State Commissioner of Police, Edgar Imohimi on Tuesday said he is ready to dine with the devil with a long spoon to ensure that Lagosians live in peace and happiness.
Imohimi spoke when he visited Lagos State Governor, Akinwunmi Ambode at the State House, Ikeja, Lagos, Southwest Nigeria.
According to him, "I told my officers and men that my passion for this assignment means that if I have to dine with the devil with a long spoon to ensure that Lagosians live in peace and happiness, I will do so."
The commissioner stated that his policing plan for Lagos State was entirely aimed at making the state the safest city to live and do business in the continent of Africa, saying that "it is based on the philosophy of community policing and community safety partnership."
"I intend to partner with everybody to ensure that Lagos is secured. Lagos is a cosmopolitan city, the issue of security is dynamic and of course, policing must also be dynamic, tomorrow (Wednesday), I would be rolling out my policing plan to achieve this. I want to thank the Lagos State Government for all the support they have been giving to the police.
"Without support both in terms of equipment, in terms of advocacy, there is no way the police would have been able to achieve what they have achieved within the short span of this administration of the incumbent governor. I appeal to his Excellency that that cooperation should continue.
"I want to assure His Excellency that during my own watch, he will have no cause for complaint or concern. We would serve the people of Lagos with all our heart and with all our might," he said.
Imohimi warned criminals and hoodlums that it would not be business as usual as the police would fish them out and prosecute them.
"I also use this opportunity to tell my colleagues here and I hope they would pass the information to their subordinates, issues of human right abuses, corruption, indiscipline generally, it would no longer be a slap on the wrist, the full weight of the law and police regulations would be meted out on anybody found wanting during my watch," he warned.
Speaking, Ambode said the government was comfortable that the new CP did not have to start trying to learn "the ropes because he is very familiar with the security architecture of the State and the enormity of the assignment that has been given to him. On our part, we will ensure that we support him as well as men and officers of the State Command.
"What is most important to us is that we must keep the city safe. Lagos must be safer, Lagos must be cleaner and it is based on that we can invite investors to come in. That is when we can project our 24/7 economy and so we cannot afford not to have a vibrant police force.
"More importantly is the fact that we in government have decided that without a safe city, we cannot have a prosperous State and the prosperity and the peace that Lagos is enjoying now is actually founded on that fabric of the safety of lives and property," he said.
The governor also assured that his administration would support the present effort of the Nigerian Police to scale up community policing.
"We will give the new CP all the support and I want to also say that we will support community policing. You must have seen that in our action which was why we established the Neighborhood Safety Corps and we want to thank the Nigerian Police for supporting that.
"The establishment of the Corps is part of the fabric of the community policing that the Nigerian Police Force is now projecting and we will support it with materials, resources and also ensure that every community is properly policed and in that, we will have the peace that everybody need to go about their activities without let or hindrance.
"We are very emphatic on law and order and we will ensure that our judicial system works in convergence with the Nigerian Police so that we can keep the city safe and more prosperous," Ambode said.