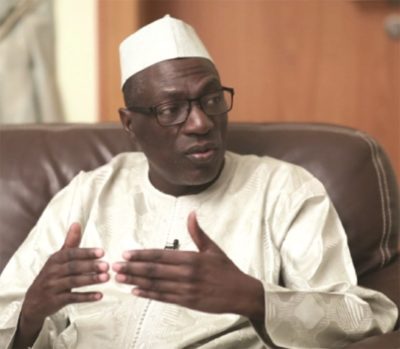 The Peoples Democratic Party (PDP) has said there is nothing to celebrate on the National Bureau of Statistics (NBS) claim that Nigeria has exited from economic recession, until the 'harsh' living condition of Nigerians improve.
The PDP said it is imperative to reiterate the warning of the last Monetary Policy Committee (PMC) meeting to the effect that the nation was at risk of falling into a more protracted recession if strong monetary and fiscal policies were not activated immediately to sustain our exit from recession.
Speaking with newsmen on Wednesday in Abuja, after inaugurating the caretaker committees for Adamawa and Osun States, Chairman of the PDP National Caretaker Committee, Senator Ahmed Makarfi said statistics could be played around with, adding that it is a matter that should not be politicized.
"When you look at the figure collectively and holistically, it will indicate that you are out of a problem when you are not really out of the problem. You will be out of a problem when people are able to eat well, people are secured, people find jobs, infrastructures are in good condition, students don't find it difficult to pay common tuition fees. But all these issues are there and then we say we are out of recession and we are clapping?
"We have nothing to clap for. We have a lot to do. That is what PDP intends to correct when we come to power. But be that as it may, what we can do, even at the moment is to partner with those in power to make sure that the conditions of every Nigerians, especially the ordinary people is better .
"So it's a matter that we must never politicize. And the country did not get into recession under the PDP administration. It nosedived into recession because of the policies that the APC administration came with which frightened foreign investors which led to capital flight.
"And of course the Nigerian economy is resilient, Nigerians are hardworking people and all of us that have been working to make sure that this country comes out of recession both from the public and private sectors have to share in the credit of whatever efforts have been put in place," he said.
Similarly, the national publicity secretary of the PDP, Prince Dayo Adeyeye in a statement yesterday argued that when the figures released are "considered along with inflation rate of 16.05% and an annual population growth rate of approximately 2.67% per annum, it is impossible to escape the conclusion that the recovery of the Nigerian economy is weak, feeble and insufficient to herald the sort of celebration and backslapping being displayed by officials of this APC led-administration."