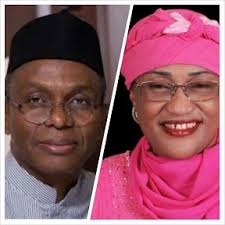 Kaduna State Governor, Nasir El-Rufai  on Friday said the Minister of Women Affairs, Aisha Al-Hassan never believed in President Muhammadu Buhari's ideologies right from the onset.
El-Rufai, who visited Buhari in Abuja said Nigerians should not be shocked as the Minister has never been in Buhari's camp.
According to him, the minister was entitled to her opinion and that Buhari had the sole decision to either sack her or retain her in his cabinet.
He debunked rumours that he planned to contest the 2019 presidential election, saying he and other loyalists were praying for Buhari's full recovery and pushing him to vie for the 2019 presidency.
El-Rufai described himself and a group of other governors as 'Buharists' and that they would anything to jeopadise his interest.