First Published September 24, 2012
Former Vice-President Atiku Abubakar, once again, came to media attention last week when he spoke at this year's Leadership Newspapers Conference/Awards in Abuja. It was an avenue for him, former Governor of Lagos State, Asiwaju Bola Tinubu, Professor Pat Utomi and Governor Ibrahim Shettima of Borno State to speak truth to power. That day, Atiku marched in lock-step with those advocating restructuring, constitutional amendment, state police, independent and efficient judiciary, two-party system and others. Our Abuja Bureau staff, led by AYORINDE OLUOKUN, DESMOND UTOMWEN and photo journalist, FEMI IPAYE, attended the lecture, but their minds were not there! They had a different mission: to interview Atiku. About 30 minutes to the end of the ceremony, The team rushed to Atiku's Asokoro home to lay ambush for him. They were sure he would first touch home before travelling that day. They were lucky. Atiku granted the magazine an interview. He cleared the air on how he left the Peoples Democratic Party, PDP, how he fought former president, Olusegun Obasanjo over "third term", how Nigerians could liberate themselves from oppressive rule and of course, his 2015 ambition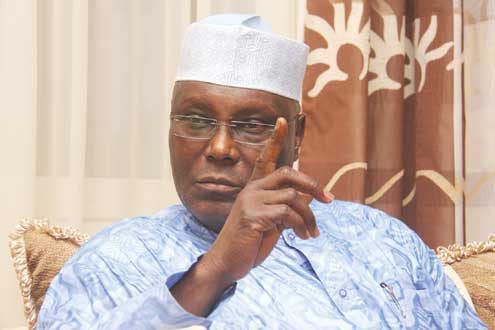 How is your preparation for 2015 election going?
Well, on 2015, I am just listening. I have been receiving a number of groups venting their frustrations about governance issues, corruption and so on and I have just been listening because I have to  distil all these things to be able to make up my mind. So this is what I can say about 2015.
But there was a report that you were trying to revive your campaign structure, media team and office, preparatory to launching your presidential campaign?
That report was pretty inaccurate. First, I don't have a campaign office. I closed the last one. Secondly, it is true that the media office is being renovated, but there is nothing there; it's the same staff, the same number of people that are still there. That was an inaccurate report.
The groups that have been coming must be telling you some things and asking you to take certain actions?
People have been coming to vent a lot of frustrations: politicians, public office holders and retired people. All manner of people have been coming and I have been listening to them.
What are these frustrations?
Frustrations over governance, whether at the federal, state or local government level. It doesn't seem government is working. It a systemic thing. Basically, there are frustrations about bad governance at all levels and people want to see more progress, more jobs. There is so much poverty. There are so many challenges: insecurity, unemployment, poverty, inadequate healthcare delivery. In some states, I know that hospitals and schools have not been working because salaries have not been paid, so it is pervasive.
So, what has been your answer to these groups?
Well, my answer is: "Let's keep in touch."
But what are your views on all these things and what will be your advice as a former Vice-President?
Considering my position, if I have strong views on an issue I think the government should know about, I will book an appointment with the President and the Vice-President to tell them. I don't think it is appropriate for me to come out in the media, having attained that high position, to start saying government is this or that. If it is the President I want to talk to or the Vice-President, I will seek an audience and talk to them.
 Are you saying you've not made up your mind on whether to contest for the presidency in the 2015 elections?
I have not made up my mind.
Or are you adopting the siddon look approach?
I will not even say siddon look. I don't want to siddon look.
Or perhaps, you are still praying about it?
No. I don't believe that prayer is the solution to our problems. We must take our destiny into our hands. The people of Egypt decided at a point to take their destiny into their hands and bring about change in their country. I mean every country has its own way of doing things. So, I think prayers alone will not solve our problem. Have you ever heard where God came down from wherever to solve people's problems? Even, when he anointed prophets, they fought to establish God's will on earth. They fought and they prayed to him and He listened. But Nigerians don't know how to fight for their rights. I don't know why it is so. Nigerians can hardly be on the street for three days, they will begin to disappear.
What do you mean by fight ?
I mean political fight, civil disobedience. You demand your right; that is what I mean. I don't mean violence or killing.
There is also the argument that Nigerian leaders don't galvanise their followers for the fight to demand for their rights…
I fought Chief  Obasanjo in this country on this issue of term limit, the so-called Third Term. Everybody disappeared and left me alone. I survived that. I fought President Jonathan on the issue of not going by the constitution of the party. At the end of the day, everybody deserted me. So, how can you say as a leader, I don't do what I am supposed to do? If I had not fought President Obasanjo, everybody in office today would not have been there. He would still be the President and I'd still be the Vice-President. So, every elected person since Obasanjo left owes that to me and to those Nigerians we worked together to abort the move to remove term limit from the constitution. So, if we can work together, definitely we will be able to change this country. But if we don't work together, there is no way we can change the country.
But you are just one person. What about other leaders?            
I don't think so. There was a leader I visited few days ago. He is older than me. He was in government before me and had held several appointments from the Second Republic and so on. I was telling him that he should intervene in this matter. He said, 'You will be shocked to hear my encounter with one governor.' I asked what happened. He said when he met the governor, he told him that he had come to advise on this and that. But the governor said: 'When we see you people meeting, we laugh at you.' He replied: 'Sir, you laugh at us?' The governor said: 'Yes. Do you have delegates? So, you have no relevance.'  What the governor forgot is that one day, he too will be out of office and will want to be listened to. Sometimes, there is what I will call some arrogance. When people are in office, they think that is the beginning and the end. But it is a temporal situation. When you are in office, you spend maybe your eight years and then you come back home. You will want to be respected also, you will want to be listened to because you believe you have acquired some experience and you might even aim at higher leadership.
With this overwhelming control of delegates by the governors and going by your experience at the last presidential primary of PDP, it will be difficult to remove a sitting president. What is the way out?
General Danjuma spoke a bit about it today (last Tuesday). He called it the tyranny of governors. Of course, if you compare the story I gave you and what General Danjuma said, you can say it is true that governors control the delegates. But if the delegates are determined not to be controlled, governors cannot control them. After all, there were some states that defied their governors and voted for me. So, it all depends on an enlightened electorate, whether at the primary or whatever level. It all depends on the quality of the electorate.
Talking about the 2011 PDP presidential primary, were you disappointed in any way by the outcome?
Of course, I was disappointed because there was no level playing field. The transparency that was shown on television was not really there. Of course, I should be disappointed, not because I wanted to win, but if I had lost fairly, I would have had no problem with it.
Some people also think that the speech you delivered at that convention was somehow too harsh?
No. I am known for telling the truth and that is what I said. What is it that I said that have not come to pass? Tell me.
But how have you been able to overcome the acrimony generated by the outcome of that convention to join hands with government in the task of tackling the challenges confronting the country?
It is the leadership that you should ask. It's the leadership that should show leadership by saying: 'Well, we contested against each, but I won. In what way can you help?' If you are not contacted, if you are not invited, you cannot impose yourself.
Are you saying the promise made that day to extend a hand of fellowship to other party members like you was not backed by action?
Of course.  When we came to office, we said we wanted to form a government of national unity. We did. We invited APP or whatever it is and other political parties and they came. They joined our government. I don't know of any person who is from a different political party in this government. I don't know because I don't know of people who have been appointed. But I don't know of visible politicians from other political parties that are in this government.
What will be your response to those who have tried to link the statements of politicians from the North before the presidential election to the current events in the country?
I don't know why they are saying that. They should explain better. I have not made any statement to that effect.
The claim is that it was Atiku and Buhari who said they will make the country ungovernable.
I don't think there was any statement saying such that could be attributed to me. I don't know about Buhari and I cannot speak for him. But I don't think there is any statement that can be attributed to me as such.
 But were you surprised to have been linked to the violence?
If they can weave some things around me, let them weave. Everybody who knows my political pedigree knows that I play clean politics.
Many people still believe that you should not have left PDP in the first place…
I don't know how many times I will say this. I did not leave PDP. I was kicked out of PDP. They introduced something I have never known in politics. They said, 'You have to re-register yourself.' Revalidation in the party that you formed? So, I went to Adamawa, went to my ward and met the registration officer. He said he could not register me. I flew back to Abuja and when I met the President, I told him I was refused registration at my ward and asked how that could have happened. He said he would get Ahmadu Ali, the chairman. I was sitting down in my office, the Chairman came with some members of the executive committee. If I can remember, the late Bernard Eze accompanied them with the register to my office and they said they'd come to register me.
I said: 'Gentlemen, I am a founding member of this party; you can't register me at the national headquarters. You must register me at my ward. If you really wanted me registered, you should have invited my ward chairman and secretary to come with the register to come and register me. If I register with you now, it is invalid, according to the constitution.'
Technically, I was out of the party. I told them to leave my office. That was how I was pushed out of the party. You people keep saying I changed party. Changed party to what? If I want to play politics and I was pushed out, do you want me to come to my house and sit down?
Talking about PDP, there have been moves to amend the constitution of the party. Going by what happened, especially as regards the zoning clause, which amendments  to the constitution would you advocate?
Please, I don't want to talk about PDP because I will flare up.
What do you think is wrong with the party? If you say you don't want to talk about the party, many people will start asking whether you are still in or on your way out of the party?
I am in. I want to see a reform of the party, a return to its original form, the way we envisaged the party. A party that has all it takes to move this country forward, entrench democratic processes, deepen democracy and provide good governance. I want to see a reform.
Are you saying that the reform is not going on now?
It is not forthcoming.
What is your opinion on the issue of zoning in the constitution of your party, given  what happened last year?
As far as I am concerned, it is dead. Zoning is in the constitution of the party, but it is dead.
So in 2015, there should be no zoning to the North or anywhere, everybody is free to contest for the presidential ticket of PDP?
Yes, everybody is free as far as I am concerned; everybody is free to run.
 There were also reports recently that the Peoples Democratic Movement, PDM, political machine, which you were once part of, is trying to regroup…
Yes, it is true. I issued a statement that I was aware of it. I approve of it because I was contacted. Even as Vice-President, I tried to revive PDM and I reached out to those even outside PDP and we held a very big meeting at Sheraton Hotels. But the President was very uncomfortable with it then and he killed it.
If PDM comes back now, can we expect it to give birth to a new political party?
No. The group that came to me really did not say they wanted to form a new party. And that is why I think most of the people that attended were from the PDP. That was what I was told. I don't know if there are people from the other parties, but members of PDM are scattered, some are in ACN and PDP.
Many will say the address you delivered today (last Tuesday) at the LEADERSHIP Awards Ceremony represents a change in your political belief.
Why should they believe in what I have not said–reading my mind? In the same speech, I said that was the bone of contention between me and my former boss. I told him that he was the most powerful president in the world. I said it even when I was in office and I explained  why I said so.
On the issue of Boko Haram, what do you think government should do now to end the crisis?
I have always been on the side of dialogue. I have said that right from the onset of the crisis. It's dialogue that will solve the problem.
You are insisting that you have not taken any stand on your political direction in 2015?
No stand yet.