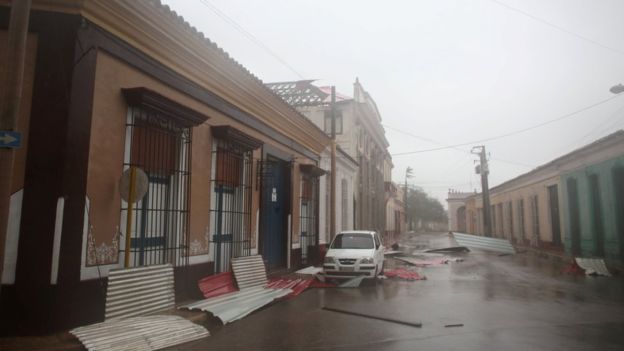 Hurricane Irma is lashing Cuba with strong winds and heavy rain after devastating several Caribbean islands.
The hurricane made landfall on the Camaguey Archipelago, in Cuba's north-east, as a category five storm but has now weakened to a category three.
The Bahamas have largely been spared.
According to the BBC, in Florida, 5.6 million people, or 25% of the US state's population, have been told to leave as the storm approaches. At least 20 people are known to have died so far across the Caribbean.
Irma hit the Sabana-Camaguey Archipelago late on Friday, threatening nearby coastal towns and villages.
It was the first category five hurricane to hit Cuba in decades. It weakened to category three by Saturday lunchtime but is expected to strengthen again as it approaches Florida.
At 12:00 GMT, Irma had maximum sustained winds of 209km/h (130mph), the National Hurricane Center in the US said.
It has brought vast amounts of rainfall to parts of Cuba, with extensive flooding reported in the fishing village of Caibarien.
Power lines have been brought down in several parts of the central province of Camaguey, and communication is becoming increasingly difficult with towns in more remote areas, the BBC's Will Grant in Havana reports.
Thousands of people have been evacuated but many others stayed to ride out the storm.
Cuban officials reported "significant damage", without giving further details, but said there were no confirmed casualties yet, AFP news agency reported.