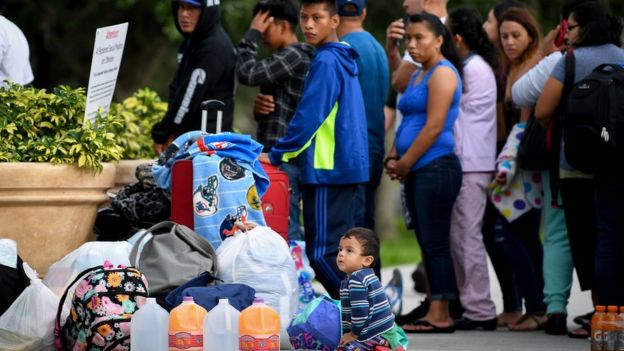 Florida's state governor has told residents to leave their homes to go to shelters and avoid the roads as Hurricane Irma approaches.
Rick Scott said it was now too late to drive away from the danger areas.
After devastating several Caribbean islands, Irma is lashing Cuba with strong winds and heavy rain, and is due to make landfall in Florida on Sunday.
Some 6.3 million people, more than 25% of the US state's population, have been ordered to evacuate.
The hurricane made landfall on the Sabana-Camaguey Archipelago, in Cuba's north-east, late on Friday as a category five storm but has now weakened to a category three.
At 15:00 GMT, Irma had maximum sustained winds of 201km/h (125mph), the National Hurricane Center in the US said.
It was the first category five hurricane to hit Cuba in more than 80 years, and it is expected to strengthen again before reaching Florida.
At least 20 people are so far known to have died as Hurricane Irma progressed across the Caribbean throughout the week.
What is happening in Florida?
Irma is expected to hit the coast at around lunchtime on Sunday, but the outer bands are already affecting the south of the state and central Miami is being lashed by heavy rain.
The Florida Keys – a chain of small islands to the south – have suffered some minor damage.
About 25,000 people are currently without electricity, energy provider Florida Power and Light reported.
The western Gulf coast is expected to be worst affected, with cities such as Tampa and St Petersburg in the path of the storm.
And there are fears that storm surges combined with high tide on Monday could overwhelm some low-lying areas.
Florida Governor Rick Scott issued a stark warning to those in threatened areas.
"Look, it's getting late," he told NBC. "If you're not on the road on the west coast by noon [16:00 GMT], you need to get to a shelter, get to a friend's house if you're in an evacuation zone. Get off the road."
-BBC